2020 Panini Elements Football Checklist, Team Set Lists and Details
Sports card theme draw from a variety of spots for thematic inspiration. For 2020 Panini Elements Football, it's science. Most specifically, the table of elements. And while a lot of this comes though in the various set names at all corners of the checklist, it goes beyond that. It goes to the cards themselves with some being done on metal.

2020 Panini Elements Football Base Set Basics
Much of the metal content is from the base set. Both veterans and rookies are done on the different stock. The base versions have 79 copies each. Parallels take to the table with Palladium (/46), Cobalt (/27), Neon (/10), Lithium (/3) and Hydrogen (1/1). In case you're wondering about the print runs, they match the elements' atomic number.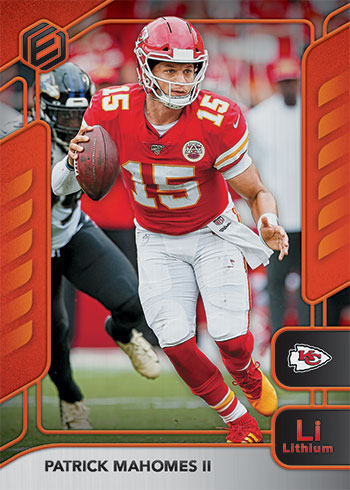 Base cards and parallels combine to land one per box.
Autographs and Memorabilia Cards
It's not just the base cards that are on metal. A handful of autograph themes do as well, all of which use on-card ink.
Heavy Metal (/50 or less) takes size into account for its player selection, drawing from some of the game's biggest current and retired players.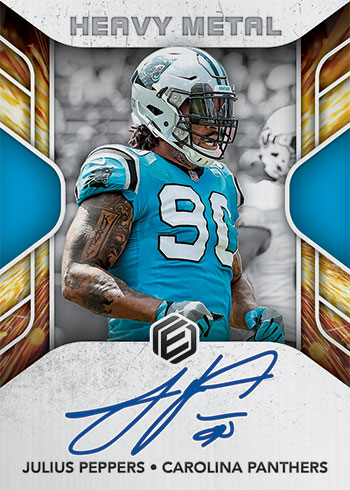 Highlight plays are the focal point for Mettle Moments (/75 or less). Not only are specific moments covered but photography as well.
Steel Signatures (/199 or less) is another place for autographs from veterans and past stars. Parallels come in Copper (/29), Neon (/10) and Hydrogen (1/1).
Key draft picks get in on the metal autographs with RPS Rookie Steel Signatures (/149). These have additional Gold (/79), Copper (/29), Cobalt (/27), Neon (/10), Carbon (/6) and Hydrogen (1/1) versions.
Neon Signs (/129 or less) return with a shadow box design and signatures done on acetate pieces. Here, parallels go with a more standard color-based approach: Blue (/50 or less), Red (/25 or less), Purple (/10 or less) and Yellow (1/1). Rookies also have Neon Signs cards. Base versions have no more than 149 copies each with parallels going down from there.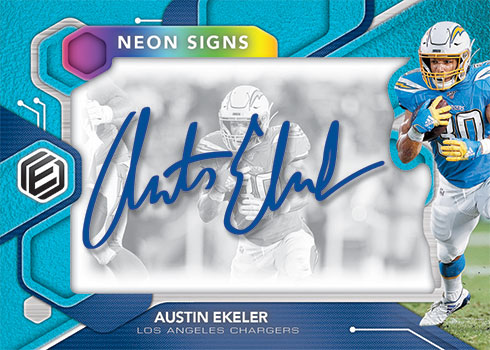 Taking the shadow box style a step further are Rookie Neon Materials Signs (/25). These have memorabilia under the acetate layer. On top of these are Prime (/15) and Shield (1/1) versions.
Proton Patch Autographs (/99 or less) is another new additional for 2020 Panini Elements Football. Parallels for these are limited to Silver (/47 or less), Cobalt (/27 or less), Neon (/10 or less) and Hydrogen (1/1).
Of the two autographs in every 2020 Elements hobby box, one has an on-card signature.
2020 Panini Elements Football cards at a glance:
Cards per pack: 4
Packs per box: 1
Boxes per case: 12
Set size: 159 cards
Release date: August 14, 2020
Shop for 2020 Panini Elements Football boxes on eBay:
What to expect in a hobby box:
Autographs – 2
Memorabilia Cards – 1
Metal Base Cards – 1
2020 Panini Elements Football Checklist
You can also download a spreadsheet copy of the checklist:
Base
Autographs
Memorabilia
Updates
Team Sets