2018-19 Leaf Pearl Multi-Sport Checklist and Details
2018-19 Leaf Pearl Multi-Sport represents to luxury level for the company. The checklist is a mix of current superstars and past greats from several sports and all corners of the world.
Boxes come with 11 cards, all of which Leaf classifies as being super premium.
2018-19 Leaf Pearl Multi-Sport Base Set Basics
While autographs and memorabilia cards make up the majority of the checklist, there is a base set. Consisting of 58 cards, all are numbered to 10. Similar to how Panini Flawless embeds diamonds into its base cards, 2018-19 Leaf Pearl Multi-Sport base cards have pearls.
Additional 2018-19 Leaf Pearl Multi-Sport parallels come in six levels: Red Spectrum Holofoil (/8), Platinum Spectrum Holofoil (/6), Purple Spectrum Holofoil (/4), Green Spectrum Holofoil (/2), Gold Spectrum Holofoil (1/1) and Black Foil (1/1).
2018-19 Leaf Pearl Multi-Sport Autographs
Variety is one of the key parts of 2018-19 Leaf Pearl Multi-Sport. While that can be seen in the types of autographs and memorabilia cards on the checklist, it's more apparent with the players and subjects that are in the set.
The checklist features superstars and champions from across several sports including baseball, basketball, soccer, boxing, wrestling and more.
The signatures start with Base Autographs. Numbered to 10 or less, signers include Ichiro, Ken Griffey Jr., Giannis Antetokounmpo, Lionel Messi, Floyd Mayweather Jr. and Conor McGregor. More than 50 athletes are on this part of the checklist.
2018-19 Leaf Multi-Sport's Paragon Signatures combine autographs and patches from one, two and three players.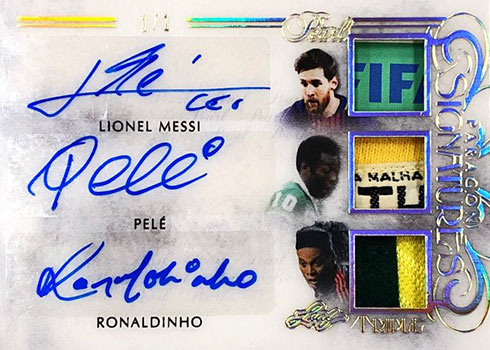 Pearl Signatures is another place to find multiple autographs. These feature as many as eight athletes that share some sort of common thread.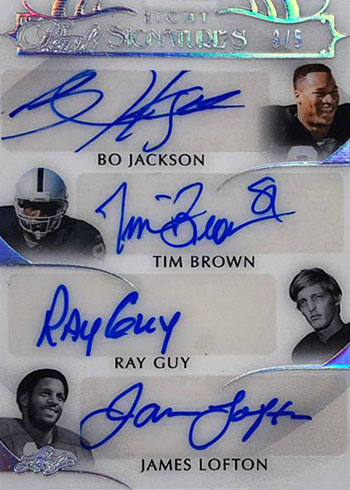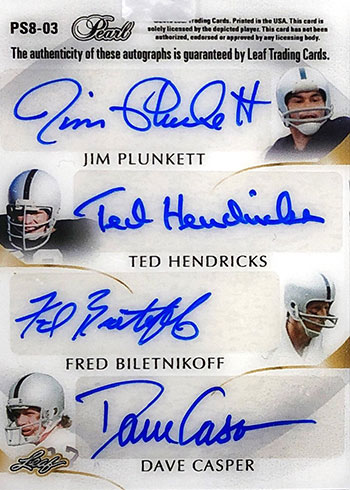 Like 2017 Leaf Pearl, Cut Signatures play a big role once again. 2018-19 Leaf Pearl has almost 200 different cuts available, spanning both sports and pop culture. Some of the names here include Babe Ruth, Madonna, Marilyn Monroe, Sen Connery, Queen Elizabeth II and George Steinbrenner. There are also a handful of cuts with more than one singer like The Three Stooges, George H.W. Bush and Barbara Bush and a Yankees-themed card with Mickey Mantle, Whitey Ford and Casey Stengel.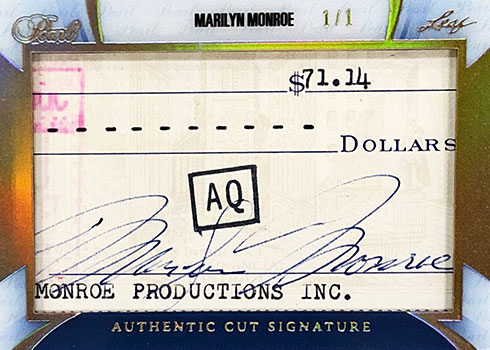 2018-19 Leaf Pearl Multi-Sport Memorabilia Cards
Memorabilia cards take on a variety of themes in 2018-19 Leaf Pearl Multi-Sport. In even broader terms, most have multiple pieces of gear. And those that don't have large patches or are otherwise unique in some way.
Legends of Sport kicks the 2018-19 Leaf Pearl Multi-Sport memorabilia off with either four or six stars. Magnificent Materials might be single-player cards but they come with eight swatches. Immortal Eight and Perfect 10 bring together lots of athletes. Perfect 10 also happen to be double-sided cards with memorabilia showing on both the front and back.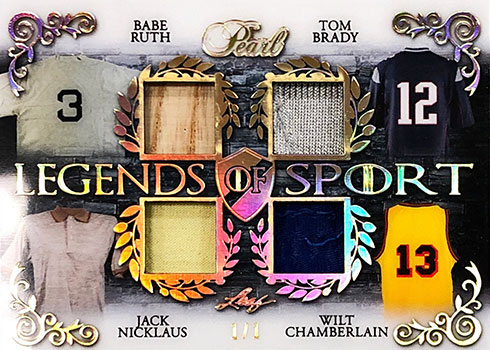 Pearls of History have buttons taken fro a pair of players' jerseys. Sticking with two-players is Pearlescent Patch Dual.
Pearlescent Patch is one of the sets to have just one player. However, the swatch takes up a large portion of the card front, making for some recognizable pieces.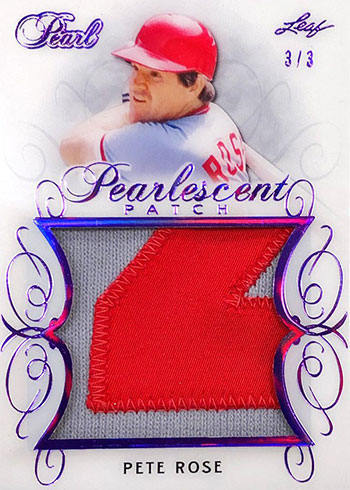 Letterman cards all use letters taken from nameplates of game-used jerseys.
Perhaps the biggest memorabilia cards in 2018-19 Leaf Pearl Multi-Sport are Magnum Opus. Things like logo patches and names taken from seams are reserved for this dual-player set.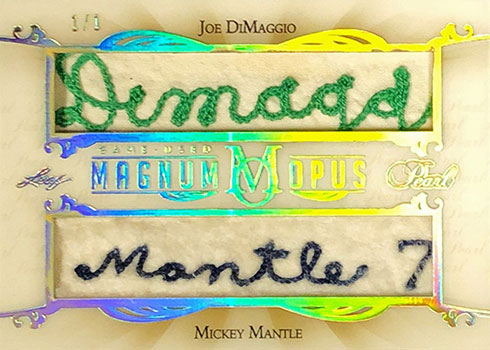 2018-19 Leaf Pearl Multi-Sport at a glance:
Cards per pack: 11
Packs per box: 1
Set size: 58 cards
Release date: February 7, 2020
2018-19 Leaf Pearl Multi-Sport Checklist
Base
Autographs
Memorabilia
Cut Signatures