2016 Topps Now Postseason Baseball Checklist, Print Runs and Details
2016 Topps Now Baseball has been about the moments and stories of the season. 2016 Topps Now Postseason Baseball takes a slightly different approach. While there's still the story element, in some ways, it's more of a cumulative approach. But there is still a timely element as more cards get added with every postseason series.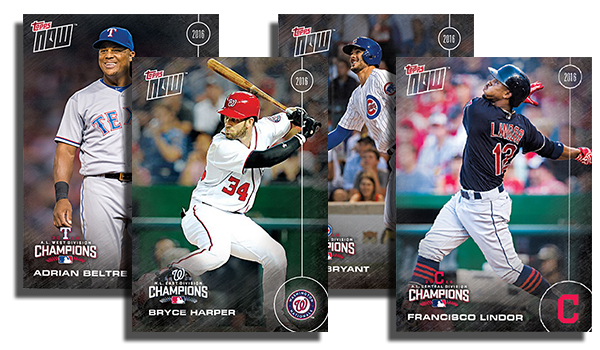 The bulk of the content comes in the form of team sets. As teams clinch their playoff spot, Topps is releasing a set of 15 cards. As you'd expect, big stars and key players are the focus.
If teams do well in the playoffs, the team sets get bigger. The winners of each round starting with the Divisional Series get another 2016 Topps Now Postseason Baseball card commemorating the victory. That means the team that wins the World Series will have 18 cards — 15 player cards plus three additional cards.
Each 2016 Topps Now Postseason Baseball set costs $49.99 on the Topps website. Bulk lots of ten are $399.99. They're being put on sale the day after franchises lock up their postseason spots and are available through October 6. Print runs, which are based on what's sold, will be announced after the sales window closes.
2016 Topps Now Postseason Baseball Checklist
As more teams lock in the playoff spots, they'll be added to the checklist. Each series will also have a card through to the World Series. Click on the links to shop for specific cards on eBay.
American League
Print Run: 160 sets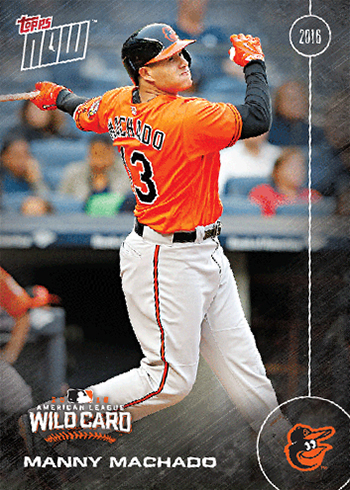 BAL-1 Manny Machado
BAL-2 Jonathan Schoop
BAL-3 Mark Trumbo
BAL-4 Chris Davis
BAL-5 Adam Jones
BAL-6 Matt Wieters
BAL-7 JJ Hardy
BAL-8 Hyun-Soo Kim
BAL-9 Pedro Alvarez
BAL-10 Trey Mancini
BAL-11 Chris Tillman
BAL-12 Dylan Bundy
BAL-13 Kevin Gausman
BAL-14 Brad Brach
BAL-15 Zach Britton
Print Run: 612 sets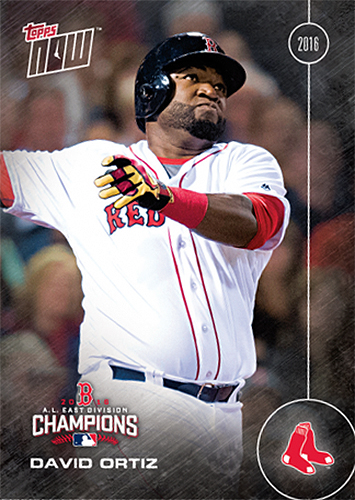 BOS-1 David Ortiz
BOS-2 Mookie Betts
BOS-3 Dustin Pedroia
BOS-4 Xander Bogaerts
BOS-5 Andrew Benintendi
BOS-6 Jackie Bradley
BOS-7 Hanley Ramirez
BOS-8 Sandy Leon
BOS-9 Travis Shaw
BOS-10 Yoan Moncada
BOS-11 David Price
BOS-12 Steven Wright
BOS-13 Rick Porcello
BOS-14 Drew Pomeranz
BOS-15 Craig Kimbrel
Print Run: 271 sets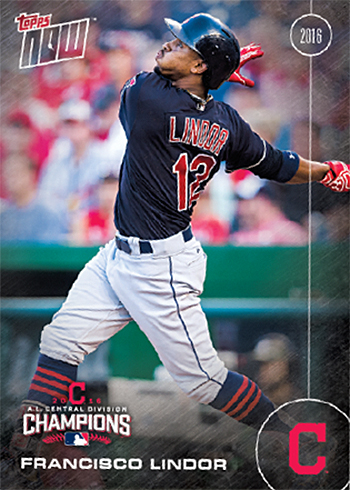 CLE-1 Francisco Lindor
CLE-2 Jason Kipnis
CLE-3 Carlos Santana
CLE-4 Mike Napoli
CLE-5 Rajai Davis
CLE-6 Tyler Naquin
CLE-7 Lonnie Chisenhall
CLE-8 Jose Ramirez
CLE-9 Roberto Perez
CLE-10 Corey Kluber
CLE-11 Carlos Carrasco
CLE-12 Danny Salazar
CLE-13 Trevor Bauer
CLE-14 Cody Allen
CLE-15 Andrew Miller
Print Run: 254 sets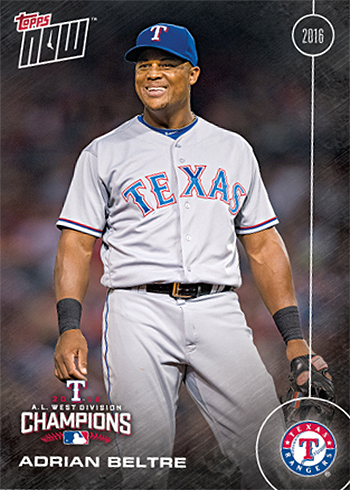 TEX-1 Adrian Beltre
TEX-2 Rougned Odor
TEX-3 Ian Desmond
TEX-4 Nomar Mazara
TEX-5 Carlos Gomez
TEX-6 Mitch Moreland
TEX-7 Jonathan Lucroy
TEX-8 Carlos Beltran
TEX-9 Elvis Andrus
TEX-10 Jurickson Profar
TEX-11 Cole Hamels
TEX-12 Yu Darvish
TEX-13 Colby Lewis
TEX-14 AJ Griffin
TEX-15 Sam Dyson
Print Run: 145 sets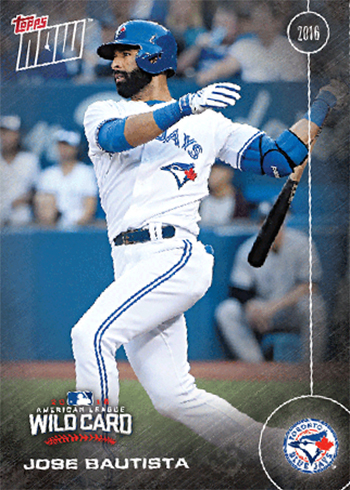 TOR-1 Jose Bautista
TOR-2 Edwin Encarnacion
TOR-3 Josh Donaldson
TOR-4 Kevin Pillar
TOR-5 Michael Saunders
TOR-6 Russell Martin
TOR-7 Troy Tulowitzki
TOR-8 Justin Smoak
TOR-9 Devon Travis
TOR-10 J.A. Happ
TOR-11 Aaron Sanchez
TOR-12 Marco Estrada
TOR-13 Marcus Stroman
TOR-14 Francisco Liriano
TOR-15 Roberto Osuna
National League
Print Run: 2,270 sets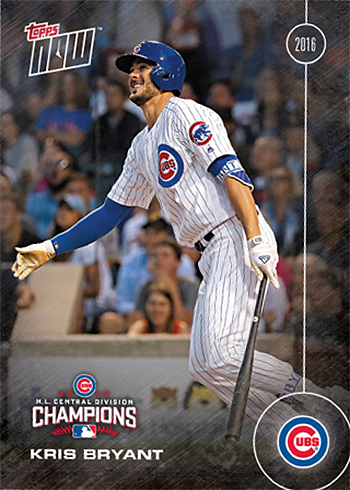 CHC-1 Kris Bryant
CHC-2 Anthony Rizzo
CHC-3 Ben Zobrist
CHC-4 Dexter Fowler
CHC-5 Willson Contreras
CHC-6 Jorge Soler
CHC-7 Addison Russell
CHC-8 Javier Baez
CHC-9 Jason Heyward
CHC-10 David Ross
CHC-11 Jake Arrieta
CHC-12 Jon Lester
CHC-13 Kyle Hendricks
CHC-14 John Lackey
CHC-15 Aroldis Chapman
Print Run: 383 sets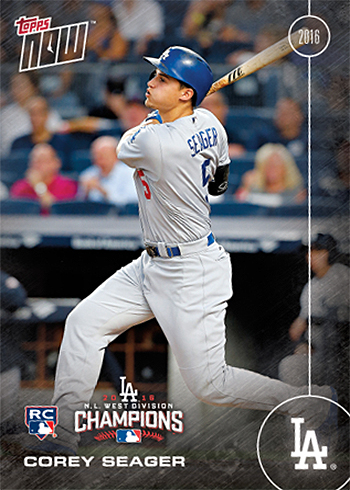 LAD-1 Corey Seager
LAD-2 Adrian Gonzalez
LAD-3 Justin Turner
LAD-4 Yasmani Grandal
LAD-5 Joc Pederson
LAD-6 Chase Utley
LAD-7 Howie Kendrick
LAD-8 Yasiel Puig
LAD-9 Josh Reddick
LAD-10 Clayton Kershaw
LAD-11 Kenta Maeda
LAD-12 Julio Urias
LAD-13 Scott Kazmir
LAD-14 Joe Blanton
LAD-15 Kenley Jansen
Print Run: 392 sets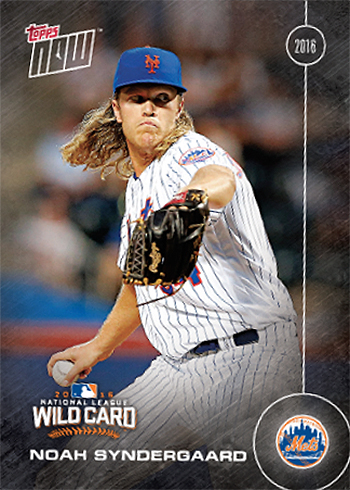 NYM-1 Noah Syndergaard
NYM-2 Yoenis Cespedes
NYM-3 Jay Bruce
NYM-4 Curtis Granderson
NYM-5 Jose Reyes
NYM-6 Asdrubal Cabrera
NYM-7 T.J. Rivera
NYM-8 James Loney
NYM-9 Neil Walker
NYM-10 Jacob deGrom
NYM-11 Bartolo Colon
NYM-12 Robert Gsellman
NYM-13 Seth Lugo
NYM-14 Addison Reed
NYM-15 Jeurys Familia
Print Run: 254 sets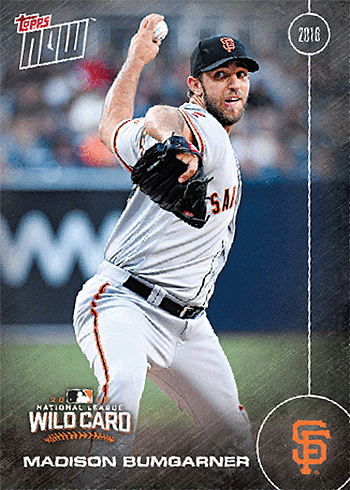 SF-1 Madison Bumgarner
SF-2 Buster Posey
SF-3 Brandon Belt
SF-4 Hunter Pence
SF-5 Denard Span
SF-6 Angel Pagan
SF-7 Eduardo Nunez
SF-8 Brandon Crawford
SF-9 Joe Panik
SF-10 Johnny Cueto
SF-11 Matt Moore
SF-12 Jeff Samardzija
SF-13 Albert Suarez
SF-14 Hunter Strickland
SF-15 Sergio Romo
Print Run: 288 sets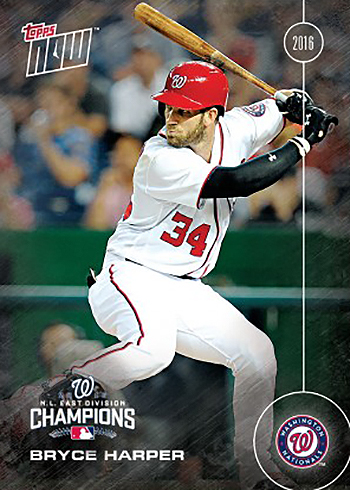 NAT-1 Bryce Harper
NAT-2 Trea Turner
NAT-3 Jayson Werth
NAT-4 Ben Revere
NAT-5 Anthony Rendon
NAT-6 Danny Espinosa
NAT-7 Daniel Murphy
NAT-8 Ryan Zimmerman
NAT-9 Wilson Ramos
NAT-10 Max Scherzer
NAT-11 Tanner Roark
NAT-12 Stephen Strasburg
NAT-13 Gio Gonzalez
NAT-14 Joe Ross
NAT-15 Mark Melancon
Bonus Cards
These are given to those ordering the corresponding team set before the playoffs began. Each series winner throughout the postseason gets a card.
BON-1 Josh Donaldson, Toronto Blue Jays – ALDS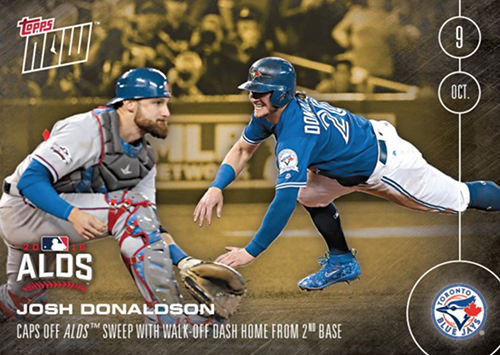 BON-2 Francisco Lindor, Cleveland Indians – ALDS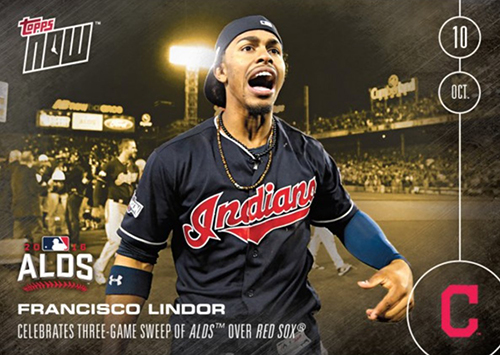 BON-3 Javier Baez, Chicago Cubs – NLDS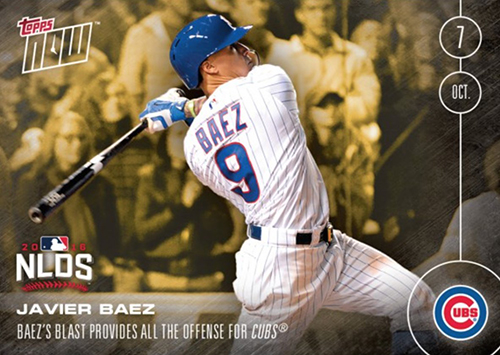 BON-4 Clayton Kershaw, Los Angeles Dodgers – NLDS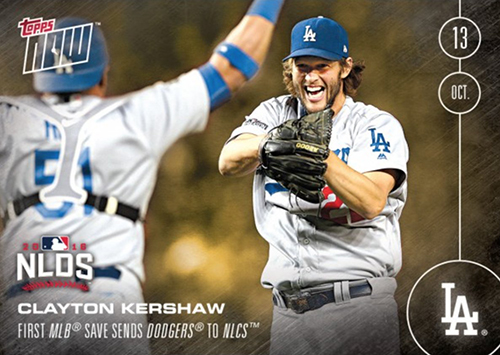 Comments? Questions? Contact Ryan Cracknell on Twitter @tradercracks.