The Horror! 1993 Coke Monsters of the Gridiron Football Cards
Jurassic Park set a high benchmark for monsters in 1993. Not much can compare to the T-Rex and its bellowing roar — certainly not Tez Rex, the alter ego of Cortez Kennedy. Kennedy is one of 29 different NFL stars on the 1993 Coke Monsters of the Gridiron football card checklist, one of the weirdest oddball sets of all-time.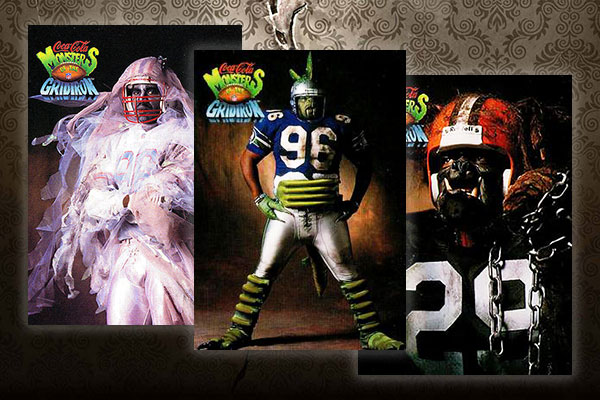 And that is the highest form of praise.
In a decade where everything had to be EXTREME!, 1993 Coke Monsters of the Gridiron takes the feeling to further extremes. Participating players were transformed into original monsters through some fancy make-up effects that are both impressive and incredibly corny.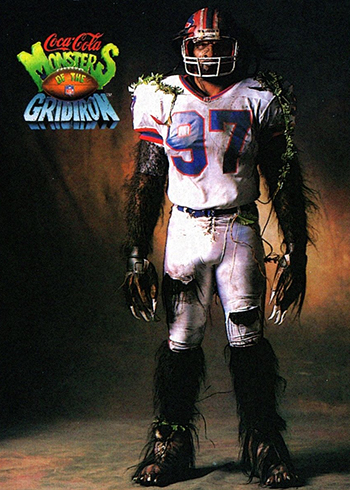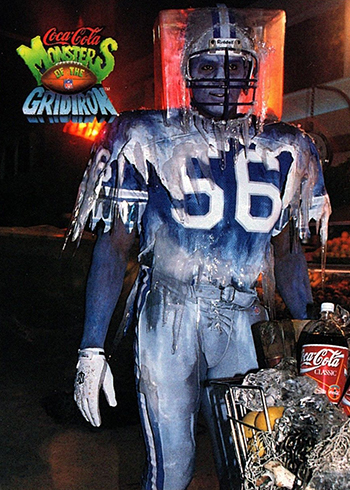 Except Randall Cunningham's "Rocket Man." He looks like a green Bullet Bill from a Mario brothers video game wearing a cape.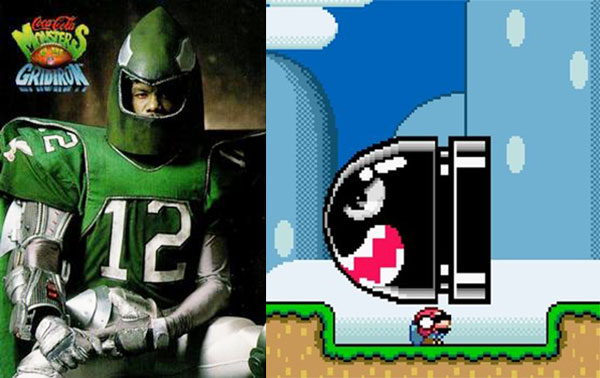 If one had to sum up the overall look and feel of 1993 Coke Monsters of the Gridiron (and it's followup 1994 set), it's as though a series of Costacos Brothers posters got together and decided to go  trick or treating.
The cards were part of a larger Coca-Cola promotion involving trips to the grocery store, phone calls to enter codes and commercials with a couple of happy grunge bros who just happen to find a phone booth in the middle of the produce aisle.
While the main promotion ran around Halloween and gave away Super Bowl tickets, the cards themselves were handed out a couple of ways. Two-card packs were inserted in specially marketed Coke products.
Additionally, full sets were handed out at the Super Bowl card show between January 27 and 30, 1994 in Atlanta. To get a set, collectors redeemed ten wrappers from 1993 NFL card products.
1993 Coke Monsters of the Gridiron Football cards do have a 1994 copyright on the back. A followup set came out the following year. The latter one includes borders and a slightly different checklist, although there is a fair bit of overlap.
Coke's Monsters of the Gridiron promotion inspired more collectibles beyond just cards. Posters, pins, cups and tattoos with similar designs are among the other things available.
1993 Coke Monsters of the Gridiron Football Checklist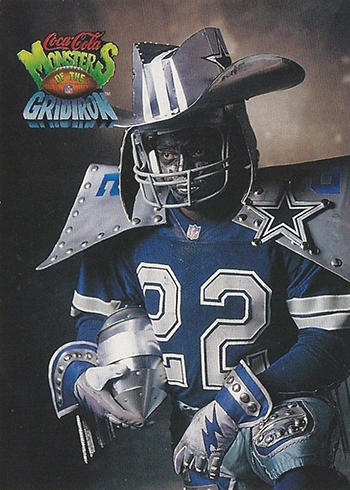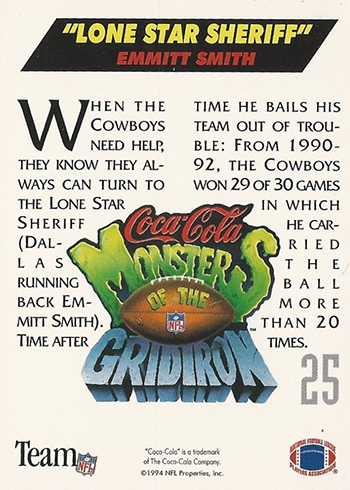 1 Title Card
2 Cornelius Bennett, Buffalo Bills – Big Bear
3 Terrell Buckley, Green Bay Packers – Tiger
4 Tony Casillas, Dallas Cowboys – Conde (Count)
5 Reggie Cobb, Tampa Bay Buccaneers – Crossbones
6 Marco Coleman, Miami Dolphins – Cobra
7 Shane Conlan, Los Angeles Rams – Conlan the Barbarian
8 Randall Cunningham, Philadelphia Eagles – Rocket Man
9 Chris Doleman, Minnesota Vikings – Dr. Doomsday
10 Steve Emtman, Indianapolis Colts – Beast-Man
11 Harold Green, Cincinnati Bengals – Slime
12 Michael Haynes, Atlanta Falcons – Moonlight Flyer
13 Garrison Hearst, Phoenix Cardinals – Hearse
14 Craig Heyward, Chicago Bears – Iron Head
15 Rickey Jackson, New Orleans Saints – The Jackal
16 Joe Jacoby, Washington Redskins – Frankenstein
17 Sean Jones, Houston Oilers – Ghost
18 Cortez Kennedy, Seattle Seahawks – Tez Rex
19 Howie Long, Los Angeles Raiders – Howlin
20 Ronnie Lott, New York Jets – The Rattler
21 Karl Mecklenburg, Denver Broncos – Midnight Marauder
22 Neil O'Donnell, Pittsburgh Steelers – Knight Raider
23 Tom Rathman, San Francisco 49ers – Psycho
24 Junior Seau, San Diego Chargers – Stealth
25 Emmitt Smith, Dallas Cowboys – Lone Star Sheriff
26 Pat Swilling, Detroit Lions – Chillin
27 Lawrence Taylor, New York Giants – Six Gun
28 Derrick Thomas, Kansas City Chiefs – Attack Cat
29 Andre Tippett, New England Patriots – Andre the Terrible
30 Eric Turner, Cleveland Browns – Bad Bone