Share Thread:
Beckett Baseball: Ask the editor
07-20-2011, 11:45 AM
(This post was last modified: 07-20-2011 12:06 PM by portfan.)
portfan
Jr. Member


Posts: 199
Joined: Mar 2009
RE: Beckett Baseball: Ask the editor
I was wondering if the Ginter code parrallels will be listed soon, as well as the cipher cards. Also on this subject I pulled a redemption auto for a Nick Jacoby auto numbered AGA-NJA, but the auto listings do not have it listed. Here is a scan to verify.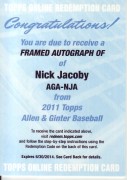 To animie67, I have an auto from that set and use a 10-card hard case. It fits in perfectly.
(07-18-2011 03:33 AM)

animie67 Wrote: Chris,
Is it normal for a UD Sweet Spot Auto such as the 2009 Derek Jeter Sweet Spot Signatures card not to fit into a 130 point card holder?
---


86 of 100 2011 Topps RC's completed, excluding printing plates.
2 of 18 One of One's
1 Allen & Ginter Yellow Printing Plate
User(s) browsing this thread: 1 Guest(s)