Share Thread:
2 Boxes Topps 1 Box Threads
01-07-2012, 01:24 AM
2 Boxes Topps 1 Box Threads
Been out of collecting for a few years now and am excited to get back into it. I apparently have a problem with retail Topps Chrome because I have busted too many rack packs and blasters to count. Before I get to the break, I need to get something straight. It's no longer DLP (Donruss Leaf Playoff), it's Panini, as in the sandwich? Weird.
Here are the goods (or bads I suppose)
Threads:
Ahmad Black Rookie Silver/250
Jaiquawn Jarrett Rookie Gold/100
Both had questionable corners. So much for "pack fresh".
Joe Webb Silver/250
Ryan Matthews/250
Vincent Jackson Gridiron King Framed Blue/50
and the "hits"
Clyde Gates Rookie Class Auto 290/300
Jay Novacek Heritage Collection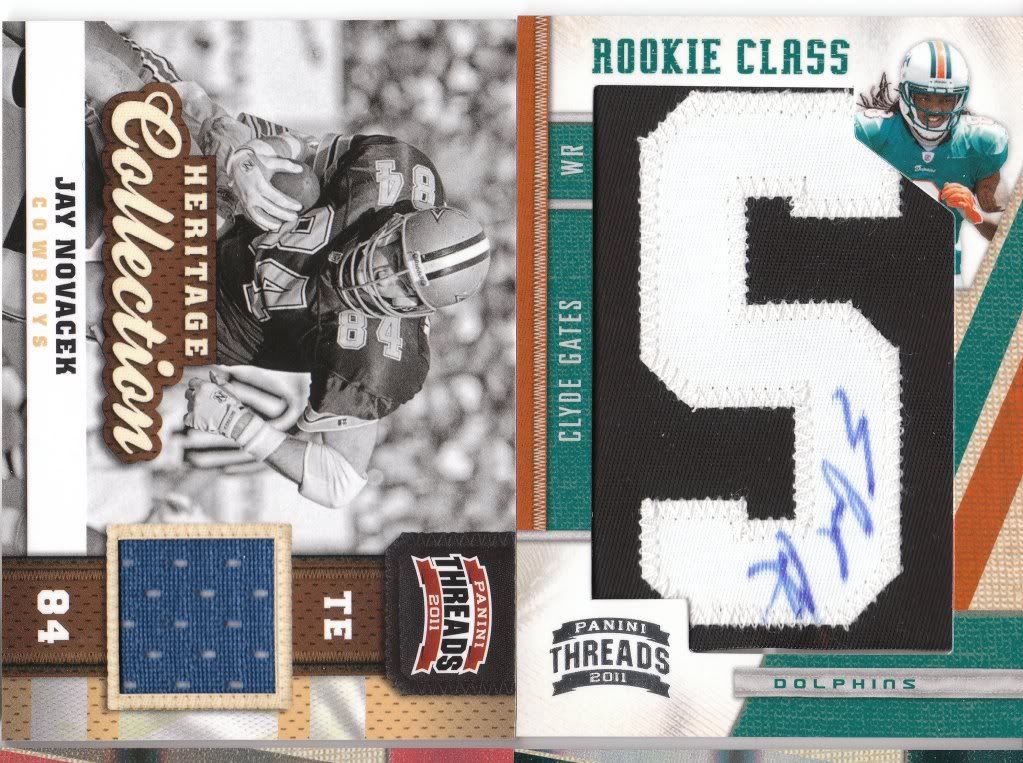 Andy Dalton Rookie Collection 218/299
Devin Hester Threads Prime 45/99
Topps:
Leonard Hankerson Auto
Joe Namath Super Bowl Legends Venue Relic 70/100
All in all, I can't complain (other than some dinged corners). I would consider most FT although I just might hang on to the Namath.
---
Currently Building the following sets:
2011 Topps Chrome Football (Need 13,29,30,32,46,60,66,75,99,127, 132,151,163,169,190x2,213,)
2011 Topps Chrome Football Orange Refractor (Need 47 Total)
2006 Bowman Chrome Football (Need 75,97,110,227,230,236)
01-07-2012, 04:56 AM
RE: 2 Boxes Topps 1 Box Threads
Hester Prime patch looks SWEET!
---
- Collecting Navorro Bowman -

http://tinyurl.com/bowmancollection


Total Cards

= (236/349) 67%


Auto

59/83

Jersey

4/4
01-07-2012, 07:00 AM
RE: 2 Boxes Topps 1 Box Threads
I don't have much trade bait, you can check if you'd like, but would you consider selling the Hankerson?
---

01-07-2012, 09:50 AM
RE: 2 Boxes Topps 1 Box Threads
Sick broadway joe
---


STAN MIKITA CUP FOUNDATIONS
MATT SMABY CUP PRINTING PLATES

BUCKET LINK
User(s) browsing this thread: 1 Guest(s)