Share Thread:
02-11-2012, 11:44 PM
Mailday 02/11/12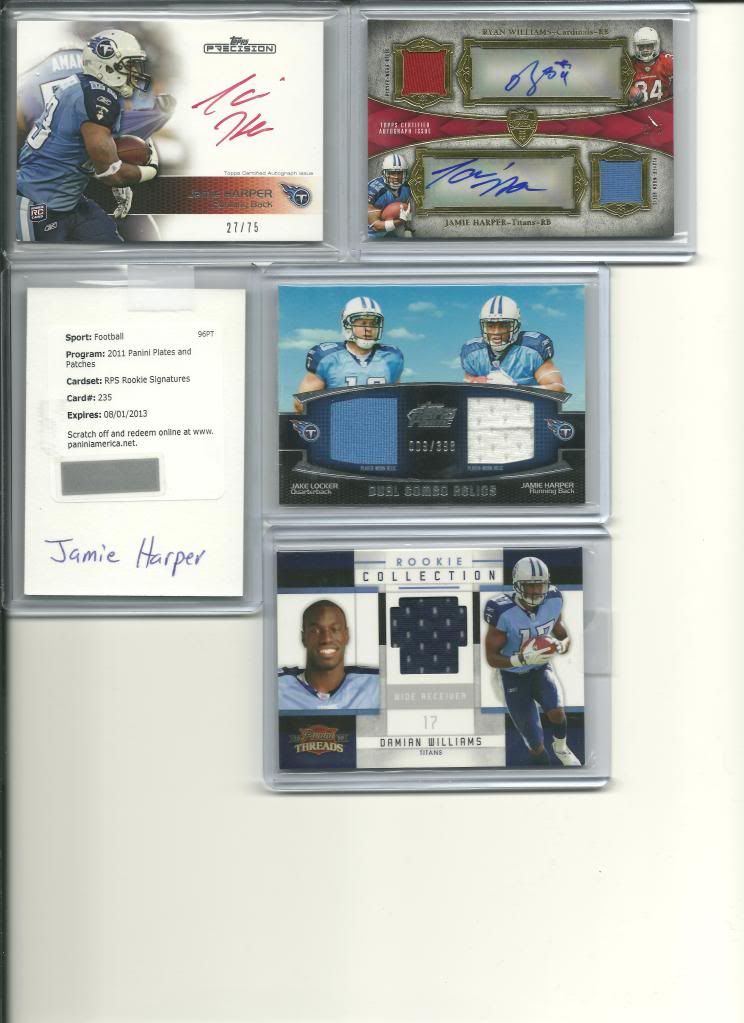 P&P Redemption is 1 of 4 I have coming
Harper / Williams Supreme dual is #'d 5/5 and I have 2/5 also.
Precision Harper red ink is 27/75
All 3 of those were eBay purchases
Harper / Locker Topps Prime and the Damian Williams were from a trade with jakedasnake22. Thanks Jacob!
---
SuperCollecting

: Jamie Harper of the TN Titans & Lee Smith Buffalo Bills Patriots 5th rd TE from Marshall. Also TN Titans, Recent Former TN Vols, Ladanian Tomlinson for my 8 yr old son and various others. Sets for 2011 R&S, 2011 Threads, 2011 Inception Base & Blue, 2011 Platinum & Gold, 2011 Finest
02-12-2012, 06:49 AM
nineof
Sr. Member


Posts: 7,880
Joined: Sep 2008
RE: Mailday 02/11/12
Wow! The Topps Surpreme dual auto/jersey card is really great looking. I like that design alot.
---
Currently collect: NON-SERIAL NUMBERED autos, Topps, and Topps Chrome cards of players in Bengals uniforms.
User(s) browsing this thread: 1 Guest(s)