Share Thread:
The Ohio State University Buckeyes collection
04-12-2011, 11:47 PM
RE: Ohio State Buckeyes auto collection
That is the nicest Dane I have seen! Congrats on the new additions.
Buckeyes are looking strong for this draft.
Shame about next season..
but I am still predicting they win the Big Ten!
---
Collecting Vintage football and all things Mickey Mantle.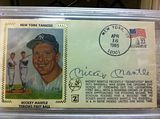 User(s) browsing this thread: 1 Guest(s)