Share Thread:
The Ohio State University Buckeyes collection
02-13-2011, 05:20 PM
RE: Ohio State Buckeyes auto collection
(02-13-2011 11:02 AM)

mrgonzodad Wrote: OSUJeffrey - It is hijacking. I would love to see your Ohio State collection in it's own thread, but not in mine.
Packer and ChiBears - thanks guys, nice pickeups recently.
Anyone remember the last time a #1 was beaten by the same school in the same year in men's bball and football?
Sorry about that, I know on some other Sports threads folks get upset if you post to many on the same topic. Will edit and take down.
---
Collecting Vintage football and all things Mickey Mantle.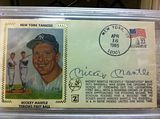 User(s) browsing this thread: 1 Guest(s)