Share Thread:
03-02-2013, 12:23 PM
(This post was last modified: 03-02-2013 03:29 PM by mswatson.)
mswatson
Member


Posts: 793
Joined: May 2009
12-13 Certified
The hits were....
Price Certified Stars 721/999
Johansson/Bergeron Path to the Cup 031/399 ** PC **
Lindback Goalie Pulls
Bernier Mirror Blue 73/99
Jake Allen Freshman Fabrics redemption
Bortuzzu Certified Signature
Hemsky Team Die-Cut FOTG 120/150
Nash FOTG Prime 11/25
All available except for the Johansson....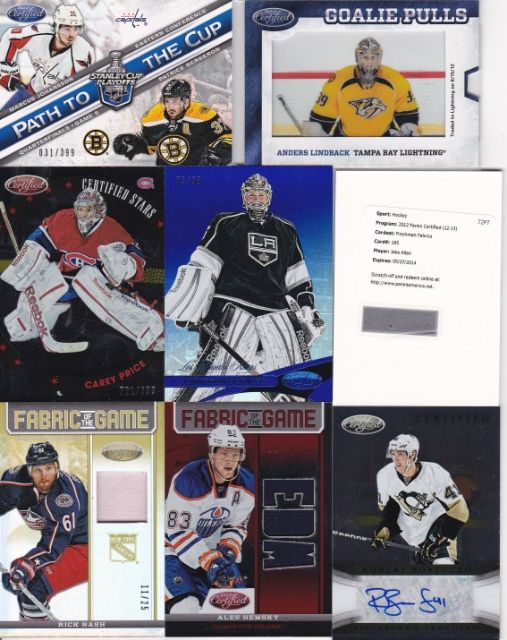 ---
Building sets, and collecting Ovechkin, Varlamov, Neuvirth, Calle Johansson and
Craig Laughlin... and now Marcus Johansson


03-02-2013, 01:21 PM
rayeates
Moderator


Posts: 6,479
Joined: Mar 2010
RE: 12-13 Certified
Nope! Don't like it! No Halak! Hehe! Very nice hits, Mark. Congrats!

Randi
---
Photobucket
03-04-2013, 04:50 PM
RE: 12-13 Certified
not bad
---


STAN MIKITA CUP FOUNDATIONS
MATT SMABY CUP PRINTING PLATES

BUCKET LINK
03-04-2013, 11:39 PM
rczubaty
Member


Posts: 875
Joined: Dec 2011
RE: 12-13 Certified
Nice hemsky
---
PRIMARY PC:Ryan Nugent Hopkins 120/705 listed cards
Collecting All Oilers GU/Auto/SN cards

also building sets http://www.beckett.com/forums/thread-1488853.html
03-06-2013, 10:13 PM
slufan83
Sr. Member


Posts: 5,198
Joined: Nov 2006
RE: 12-13 Certified
The Jake Allen Freshman Fabrics /199 was issued as a redeption?? Why would a jersey card be issued as a redemption? There are live ones out there too....Panini is confusing!
---
User(s) browsing this thread: 1 Guest(s)