Zion Williamson Headlines Epic 2019 NBA Rookie Photo Shoot
Washington Wizards rookie Admiral Schofield didn't learn how to write cursive until May . . . of 2019.
That's when, over the course of two summer weeks, the 22-year-old former Tennessee Volunteer took it upon himself to learn the age-old skill that has gradually been aged out of elementary school curriculums across the country. At Schofield's request, his agency ordered him a few "How To" books and he diligently put in the required handwriting work behind the scenes. When the rookie arrived in New Jersey for Panini America's 2019 NBA Rookie Photo Shoot in early August, Schofield's new penmanship was ready for prime time – and it was among the best in the 40-member class.
The fact that Schofield essentially learned cursive just so he could deliver an autograph anyone would be proud to own on his Panini America Rookie Cards is a testament. Not just to his commitment but to the undeniable importance of an event that is paramount to Panini America's basketball business every year.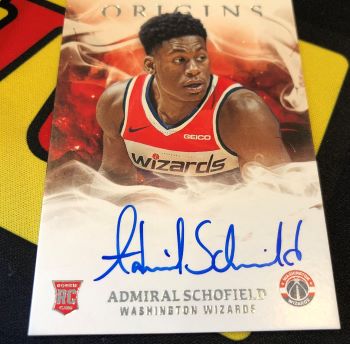 "It's by far the most important event on our basketball calendar every year," said David Porter, Panini America's NBA Brand Director. "While it affords us the opportunity to capture the autographs and memorabilia that will be the focal point of our products for the entire season, it also allows us the chance to strengthen our relationships with each and every one of the players here as well as with our colleagues at the NBA and the NBPA. You simply can't overstate how profoundly this event positively impacts our business."
Schofield's story was but one of the highlights of the annual extravaganza that provides Panini America – the exclusive trading card manufacturer of the NBA and National Basketball Players Association for the last decade – unparalleled face time, photography time and signing time with the newest class of NBA stars. Another highlight? As it turns out, some guy named "Zion Williamson" apparently is going to be a really big deal this season. Like . . . really, really big.
The buzz generated by his mere presence in any room – from the signing room on Friday and Saturday at the host hotel or on Sunday inside the spacious Farleigh Dickinson University student rec center on the school's Madison, N.J., campus – commanded attention and eye balls and audible "ooohs" and "aaahs." You know, the same reaction Panini America garnered just one day before the 2019 NBA Rookie Photo Shoot tipped off when the company announced that it had signed Williamson to an exclusive contract for autograph trading cards. Almost instantly, collecting's collective Internet went berserk.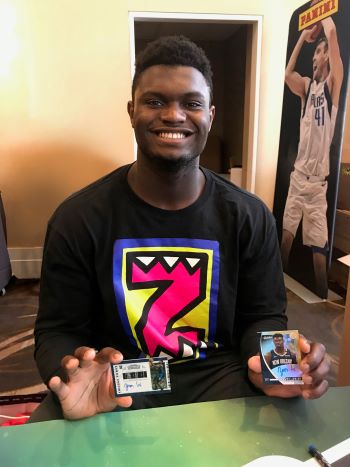 But here's the best part about Williamson: He's really nice, really accommodating, and really understands and appreciates his place atop this rookie class in the eyes of collectors. And here's the best part about this entire rookie class: It's not just top heavy with the likes of Williamson, Ja Morant (who has an exclusive autograph and memorabilia deal with Panini Authentic, too), RJ Barrett, De'Andre Hunter, Jarrett Culver, Coby White, Jaxson Hayes, Rui Hachimura and Cam Reddish. It's deep and captivating and attractive to what just might be the largest, most eager collecting base basketball has seen in . . . well . . . maybe ever.
Truth be told, there were highlights aplenty over the course of the event's three days. Friday and Saturday were reserved for player autograph sessions during which 40 players signed autographs for the likes of 2019-20 NBA Hoops, 2019-20 Origins, 2019-20 Donruss, 2019 Contenders Draft Picks and 2019 Flawless Collegiate. Sunday, of course, was showtime.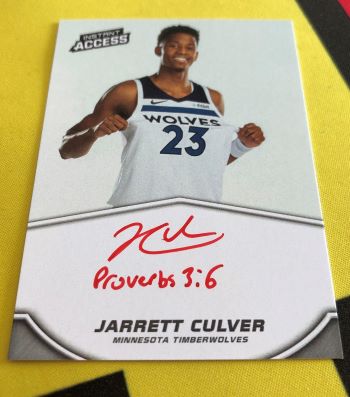 That's when the players finally donned their NBA uniforms for the first time to take photographs for cards released just minutes later in some cases (through the company's Panini Instant real-time platform and Panini NBA Dunk Digital Trading Card app) and photographs for cards that will be released throughout the 2019-20 NBA season. Photographs, mind you, that will feature prominently on the most important trading cards any of these players will ever make.
When the players weren't posing for pictures (portrait-style, on thrones, looking up, looking down, passing, dribbling, dunking, shooting, clowning), they were teaming with company marketing officials to create truly compelling content that will be used to promote NBA trading cards for this season and beyond – and also creating content that generated like-inducing social media fodder in real-time all weekend long.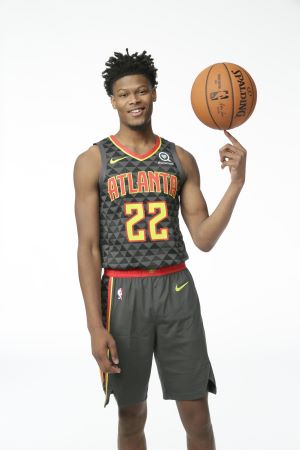 You want additional proof of the importance of this opportunity to Panini America officials? The company commissioned the construction of a massive half-court structure that transformed one of the FDU rec center's courts into a futuristic lab/studio that resembled something straight out of a big-budget Hollywood blockbuster. It was impressive. It was majestic. It was must-see – just like the content captured within it. Look for it to start airing around Christmas time if not sooner.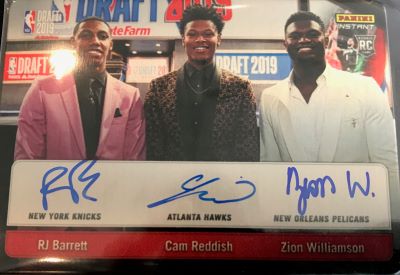 "The success of our basketball products and the marketing initiatives that support them starts right now at this event," said Jason Howarth, Panini America Vice President of Marketing. "The NBA Rookie Photo Shoot takes place over the course of just three days, but the amount of planning, preparation and dedication it takes from everyone in our office is extraordinary.
"This particular rookie class is special. It has the chance to be truly historic in terms of what it means to the entire trading card industry, at the same time it gives us the ability to introduce new collectors to trading cards as they search for coveted rookie cards. We understand that, we appreciate that and our efforts for this year's shoot are reflective of that. This is going to be an epic season for Panini basketball cards."