Zion Williamson Guide to 2019-20 Select Basketball
2019-20 Select Basketball is another set popular with chrome and color collectors. Zion Williamson is found throughout the checklist, including autographs.
It starts with the base set, which actually has three different Zion Williamson cards. Concourse (#1) is the most common and considered to be the Rookie Card. Premier Level (#199) is up next while Courtside (#297) is the toughest. Hobby boxes have just two Courtside cards. With 100 different on the checklist, that means approximately 1:50 boxes have the Williamson.
All three versions have lots of parallels. There are some similarities in the colors but each tier has some differences.
On the autograph front, there are two main types. Rookie Jersey Autographs is the more common, numbered to 199. In Flight Signatures, which has an on-card autograph, is numbered to 40. Both have additional parallels.
Memorabilia cards include Sparks and Draft Selections.
Of the four other inserts Williamson has in 2019-20 Select, Artistic Selections is the toughest and most valuable.
Here's a breakdown of all the 2019-20 Select Basketball Zion Williamson cards including a full gallery, parallel details and more.
2019-20 Select Basketball Zion Williamson Base Cards
2019-20 Select Zion Williamson RC #1 Concourse
Parallels: Disco Prizms, Silver Prizms, Scope Prizms, Tri-Color Prizms, Zebra Prizms, Light Blue Prizms (/299), Red Prizms (/199), White Prizms (/149), Neon Green Prizms (/75), Red Disco Prizms (/49), Blue Disco Prizms (/25), Tie-Dye Prizms (/25), Neon Orange Pulsar Prizms FOTL (/13), Gold Prizms (/10), Gold Disco Prizms (/10), Green Prizms (/5), Green Disco Prizms (/5), Black Prizms (1/1), Black Disco Prizms (1/1)
Buy on: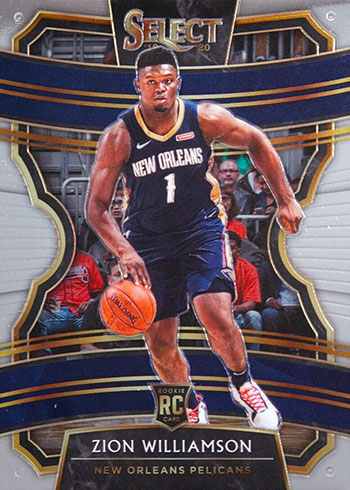 ---
2019-20 Select Zion Williamson #199 Premier Level
Parallels: Disco Prizms, Silver Prizms, Scope Prizms, Tri-Color Prizms, Zebra Prizms, Blue Prizms Die-Cut (/249), Maroon Prizms Die-Cut (/175), Purple Prizms Die-Cut (/99), Orange Prizms Die-Cut (/65), Red Disco Prizms (/49), Blue Disco Prizms (/25), Tie-Dye Prizms Die-Cut (/25), Neon Orange Pulsar Prizms FOTL (/13), Gold Prizms Die-Cut (/10), Gold Disco Prizms (/10), Green Prizms Die-Cut (/5), Green Disco Prizms (/5), Black Prizms Die-Cut (1/1), Black Disco Prizms (1/1)
Buy on: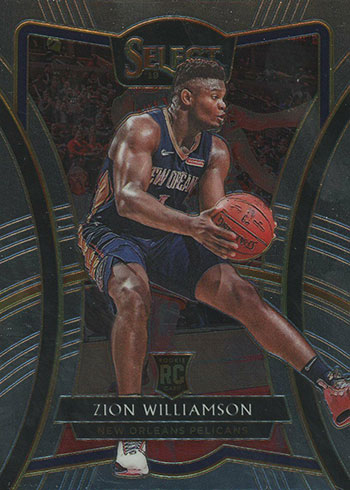 ---
2019-20 Select Zion Williamson #297 Courtside
Parallels: Disco Prizms, Silver Prizms, Zebra Prizms, Red Disco Prizms (/49), Blue Disco Prizms (/25), Tie-Dye Prizms (/25), Neon Orange Pulsar Prizms FOTL (/13), Gold Prizms (/10), Gold Disco Prizms (/10), Green Prizms (/5), Green Disco Prizms (/5), Black Prizms (1/1), Black Disco Prizms (1/1)
Buy on: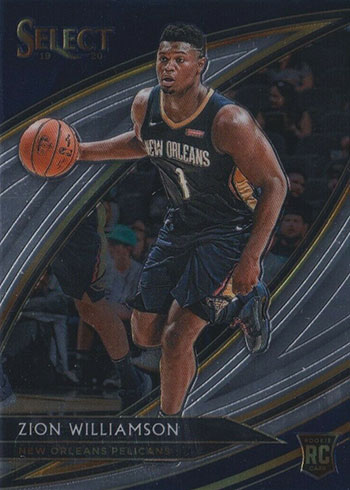 ---
2019-20 Select Basketball Zion Williamson Autographs
2019-20 Select In Flight Signatures Zion Williamson #IF-ZWL /40
Parallels: Neon Orange Pulsar Prizms (/35), Neon Green Prizms (/25), Tie-Dye Prizms (/15), Gold Prizms (/10), Black Prizms (1/1)
Buy on: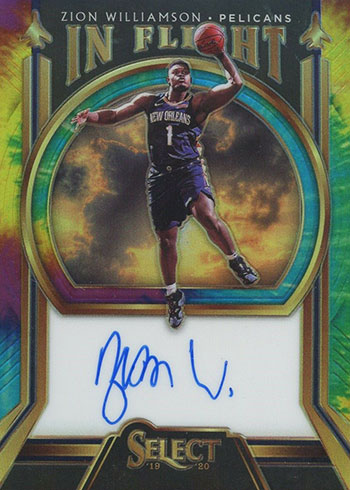 ---
2019-20 Select Rookie Jersey Autographs Zion Williamson #RJA-ZWL /199
Parallels: Purple Prizms (/99), Tie-Dye Prizms (/25), Disco Prizms (/15), Gold Disco Prizms (/10), Neon Orange Prizms (/8), Black Prizms (1/1), Black Disco Prizms (1/1)
Buy on: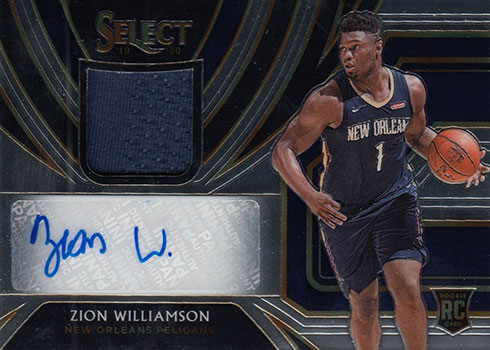 ---
2019-20 Select Basketball Zion Williamson Memorabilia Cards
2019-20 Select Draft Selections Memorabilia Zion Williamson #DS-ZWL
Parallels: Purple Prizms (/99), Copper Prizms (/49), Tie-Dye Prizms (/25), Gold Prizms (/10), Black Prizms (1/1)
Buy on: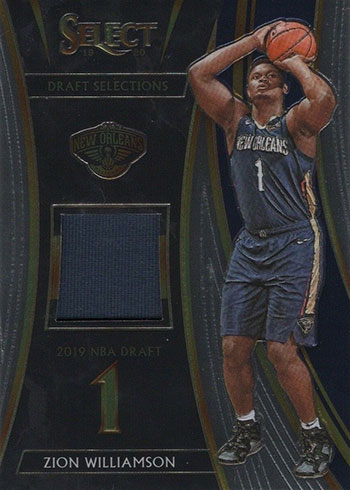 ---
2019-20 Select Sparks Zion Williamson #SP-ZWL
Parallels: Purple Prizms (/99), Copper Prizms (/49), Tie-Dye Prizms (/25), Gold Prizms (/10), Black Prizms (1/1)
Buy on: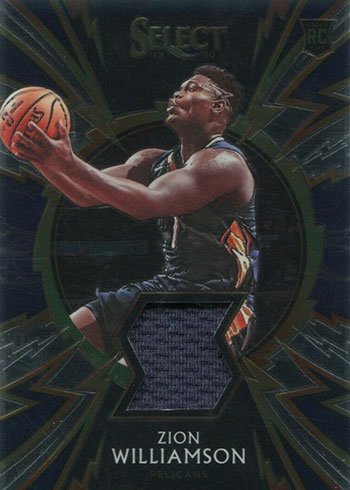 ---
2019-20 Select Basketball Zion Williamson Inserts
2019-20 Select Artistic Selections Zion Williamson #AS-ZWL
Buy on: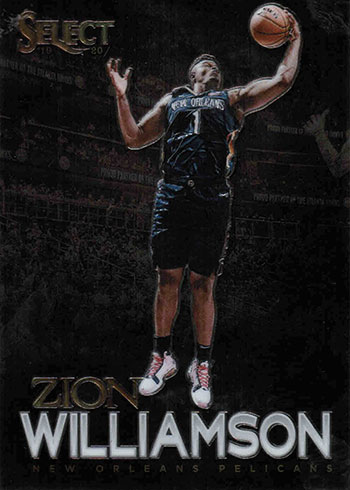 ---
2019-20 Select Phenomenon Zion Williamson #38
Parallels: Silver Prizms, Gold Prizms (/10), Black Prizms (1/1)
Buy on: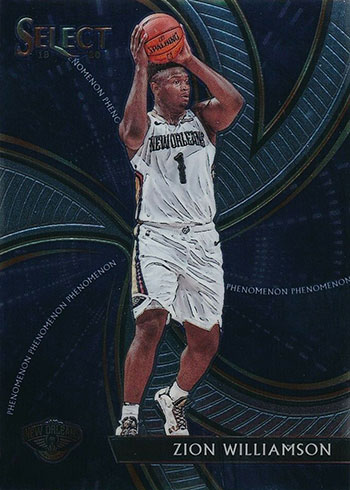 ---
2019-20 Select Select Future Zion Williamson #15
Parallels: Silver Prizms, Gold Prizms (/10), Black Prizms (1/1)
Buy on: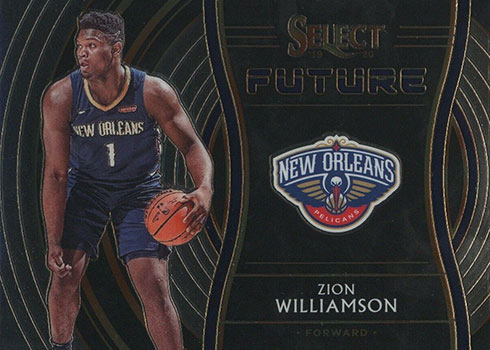 ---
2019-20 Select Top Selections Zion Williamson #9
Parallels: Silver Prizms, Gold Prizms (/10), Black Prizms (1/1)
Buy on: