Zion Williamson Guide to 2019-20 Panini Certified Basketball
Over the course of the 2019-20 season, a lot of different Zion Williamson cards will hit the market. Some will be easy to find, on the plentiful side and relatively affordable (if all Zion cards were placed on a bell curve). Other are going to be rare, expensive and, the things of many social media shares and likes. Somewhere in between is 2019-20 Certified Basketball.
Before taking parallels into consideration, there are five different 2019-20 Certified Zion Williamson cards. For starters, there's the base Rookie Card. Done with foil, it's slightly elevated. It also makes for a lot of pop with its handful of parallel colors.
Williamson has three different autographs in the product including Freshman Fabrics Signatures. This is his only autographed memorabilia card in the product. There's also Rookie Roll Call, which has an on-card autograph, and Fresh Faces Signatures.
The final 2019-20 Certified Zion Williamson card is an insert — 2019. The focal point of this card is its graffiti-style backdrop.
Here's a checklist of all the Zion Williamson cards in 2019-20 Certified, parallel info and more.
2019-20 Certified Basketball Zion Williamson Base Cards
2019-20 Certified Zion Williamson RC #7
Parallels: Mirror Camo (/25), Mirror Gold (/10), Mirror Green (/5), Mirror Black (1/1)
Buy on: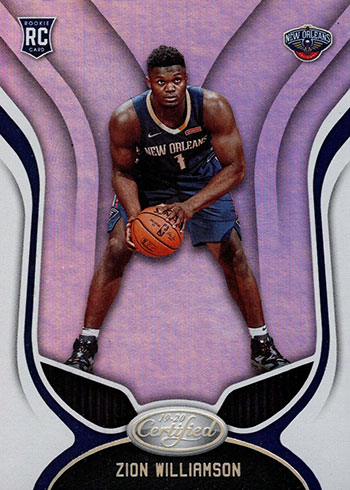 ---
2019-20 Certified Basketball Zion Williamson Autographs
2019-20 Certified Fresh Faces Signatures Zion Williamson #FFS-ZW
Parallels: Mirror Camo (/10), Mirror Gold (/5), Mirror Black (1/1)
Buy on: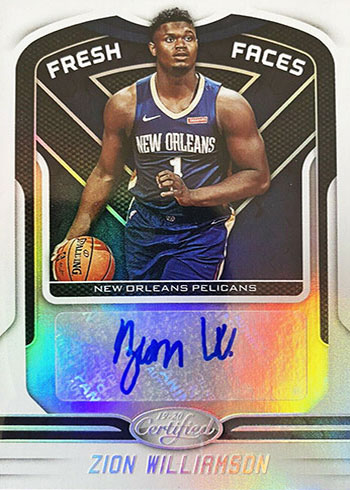 ---
2019-20 Certified Freshman Fabrics Signatures Zion Williamson #FF-ZW
Parallels: Mirror Red (/25), Mirror Blue (/15), Mirror Camo (/10), Mirror Gold (/5), Mirror Green (/3), Mirror Black (1/1)
Buy on: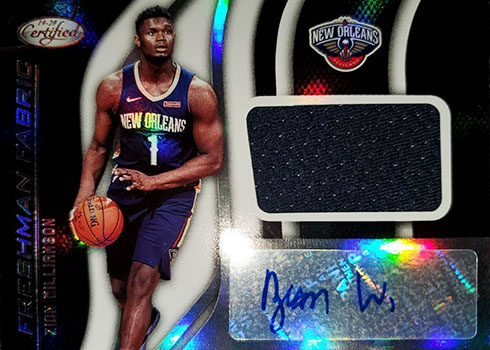 ---
2019-20 Certified Fresh Faces Rookie Roll Call Autographs Zion Williamson #RC-ZW
Parallels: Mirror Camo (/25), Mirror Gold (/10), Mirror Green (/5), Mirror Black (1/1)
Buy on: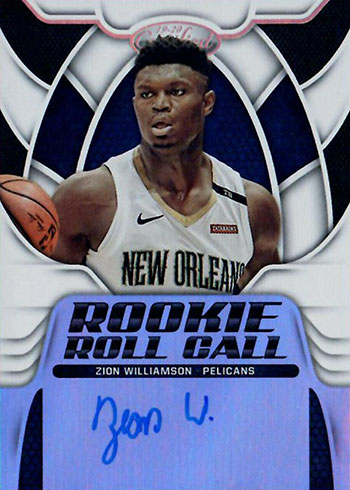 ---
2019-20 Certified Basketball Zion Williamson Inserts
2019-20 Certified Fresh Faces Signatures Zion Williamson #FFS-ZW
Parallels: Mirror Camo (/10), Mirror Gold (/5), Mirror Black (1/1)
Buy on: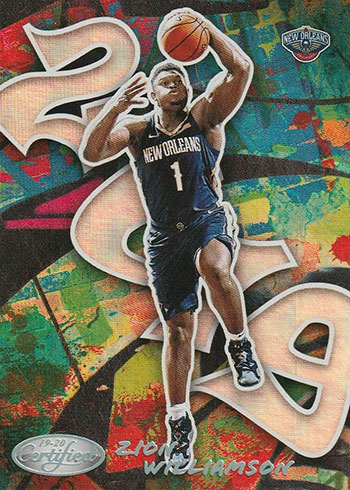 ---