Zion Williamson Autograph Prices Are Going to Be Nuts, But Not This Nuts
By Ryan Cracknell | Hobby Editor | Commentary
The moment many have been waiting for has arrived. The first official Zion Williamson autograph cards have hit the secondary market. And things are already nuts. Too nuts.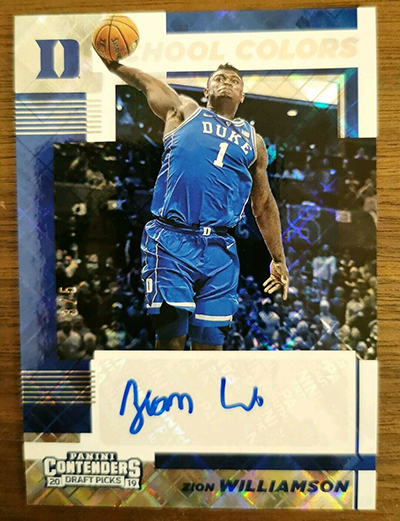 A 2019 Panini Contenders Draft Picks School Colors Signatures Zion Williamson Building Blocks parallel numbered to 5 was the first to hit eBay. Within a few hours, bids hit five figures. As I write this, it's sitting at $99,700 with 257 bids.
Or should I call upon the spirit of Chris Farley and say "bids" with a couple of caveat air quotes?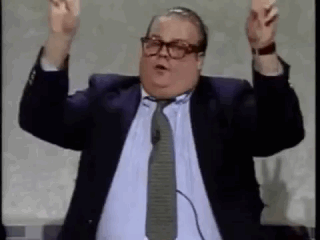 Zion Williamson autographs are going to be big. All of his cards are. There's no disputing that. But six figures for the first card out of the gate? I'm not buying it (in every sense of the phrase).
Like any autograph from the phenom, it's a great card. But let's be honest — we're not talking about a National Treasures Rookie Patch Autograph or a Flawless Logoman here. This is an insert autograph and not even a parallel of Williamson's RC in the set.
Bidding on this card doesn't make sense. Sure, it's a great conversation starter. I've seen it shared many times on several platforms. But it's not realistic. And while I'm normally in a pleasant awe of what some prices can hit, this strikes me as dangerous, whether the bidding is legit or not.
The 2019-20 basketball card season is just getting started. Literally. It's going to be about another year before it wraps up. In that time, we're going to see a couple dozen sets, each of which is going to have its own selection of Zion Williamson cards. I'd guess that even if they're not available in big numbers, autographs will be in most, if not all, of them.
In a nutshell, there's going to be lots of choice when it comes to Zion autograph cards.
And this card is setting some very unrealistic expectations.
Over the course of the day, more 2019 Contenders Draft Picks signatures have been hitting eBay. And you can expect even more as the product releases and more gets busted.
The next two to arrive, a couple of different RPS Rookie Ticket Autoraphs numbered to 5, were listed with Buy It Nows of $34,995 and $50,000. They're 50 percent or more lower than the School Colors card, so deal, right? They also both have on-card autographs versus the sticker of the pace setter. But that bidding on the first card probably isn't legit, so it really shouldn't be your measuring stick should you crack open a pack and sell one.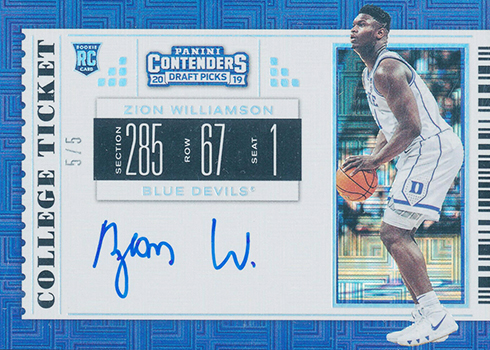 I suspect both of the ensuing sellers know this and are simply testing waters. They also have "Best Offer" activated so they can get a better sense of what the real offers are.
Bids like this create false hope. For those who have been around the hobby for a long time, it's a little easier to ignore because it seems to be so obviously run up (although I've seen the link and high-bid screen grabs shared by lots of "card people" without any hint of irony or noting that it's likely not legit).
The thing is, there are a lot of people coming to the card world specifically because of Zion Williamson — only because of Zion Williamson. For someone new, they might not recognize that the auction might not pass the proverbial smell test. To some, that might scare them away. For those with deep pockets, it might make them think that $25,000 alternative is a deal. And therein the market could be set.
If sales for every Zion Williamson autograph card soars past five figures, so be it. But let's hope that if it does happen, though, it gets there the right way and not with shenanigans. Personally, that seems like a lot of high-risk speculation that could get ugly. But how other people spend their money is their business.
Let's say the bids on the "$99,000" card are legit and someone really wants the bragging rights to say the own the first Zion Williamson autograph card to ever be offered up for sale publicly. Then what?
Typically, Contenders Draft Picks and other college-themed sets have a niche audience. They're a great way to get a new card season going. And many of the key cards hold some good value. But over the course of the season, particularly once the high-end sets arrive, there will be others that surpass them strictly in the value department.
It's safe to say, for those wondering what "the best Zion Williamson autograph" to own is, it's not out yet. There's a lot of personal preference that comes in, but historically, it'll be something like National Treasures or Flawless that delivers the cornerstone Zion card when you're measuring overall prestige and value, not an insert from the first set of the season.
Using that, if this is truly a $100,000 card, does that mean we're looking at $500,000 for a Zion Willliamson National Treasure Rookie Card? A million dollars for a one-of-one Logoman? That would set off a Willy Wonka-ian frenzy with people spending thousands of dollars on a single box looking just for Zion. And when the majority of those come up empty, then what? Not much good, even if there are some solid rookies who don't have "Williamson" on the back of their jersey.
I'm looking forward to the Year of Zion. Hopefully, I'll come across some packs in my journeys. That said, I fully expect to be watching a lot of it from the sidelines and living vicariously through the pictures, tweets, videos and stories of others. I'm a realist when it comes to the situation. Zion is bringing a lot of speculation to the hobby, which has its own set of pros and cons.
My hope is that we don't get things started with something that causes an unnecessary mania and unsurmountable expectations. Let's keep it real, even if that real is uncharted territory.