Yu-Gi-Oh! Emperor of Darkness has arrived
When you click on links to various merchants on this site, like eBay, and make a purchase, this can result in this site earning a commission.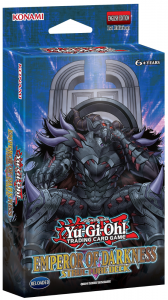 By Ian McDaries | Guest Commentary
Greetings fellow duelists! On January 29, we saw the release of the new Yu-Gi-Oh! Structure Deck, Emperor of Darkness. This deck caters to all players who are fans of the Monarch card types. The deck comes with 41 Cards broken down as follows: 2 Ultra Rares, 3 Super Rares, 36 Commons and 1 Token card.
Today we will cover some of the highlights of this deck that make it worth getting.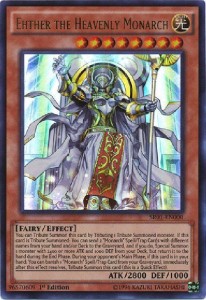 Ehther the Heavenly Monarch
The first card we will be looking at is Ehther, the Heavenly Monarch. She brings a lot to the table so we will break down each effect. The first part is you can tribute 1 Tribute summoned monster to summon her instead of the normal 2 tributes required. This effect plays well with all monarchs since they all are usually tribute summoned to generate their powerful effects. The next effect activates if you tribute summoned Ehther, by sending off 2 Monarch spell/trap cards you can special summon 1 monster with 2400 or more attack and 1000 def from your deck. Essentially you can search you deck for any Monarch and summon it for free. This can set up a quick One Turn Kill or generate enough advantage to stabilize the game in your favor. The special summoned monster does return to your hand at the end phase, however this is great since you want to re-summon the monarch to get its effect again. The final effect allows you to tribute summon Ehther on your opponents turn. Which will make your opponent think twice on what to play during their turn.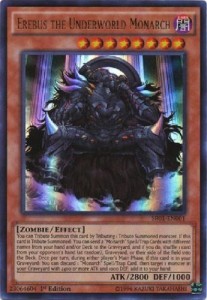 Erebus the Underworld Monarch
Ehther's counterpart is Erebus, the Underworld Monarch. Similar to Ehther, Erebus has a lot going for him. The first effect mirrors Ehther's allowing him to be tribute summoned by using 1 tribute summoned monster. He also has a similar effect of sending 2 Monarch spell/trap cards to your graveyard, and in exchange you can shuffle 1 card from your opponent's hand, graveyard or side of the field into the deck! This effect is huge and extremely versatile. Being able to get rid of a card from almost every possible zone is great, and it helps fuel your graveyard with the monarch spells and traps to help Ehther get her second effect off. Erebus final effect can also be activated during either player's main phase, and if he is in your graveyard you can discard 1 Monarch spell/trap card and add any monster with 2400 or more attack and 1000 defense to your hand. Meaning himself or any other monarch in your deck.
Edea the Heavenly Squire & Eidos the Underworld Squire
The next 2 cards, Edea and Eidos, go hand-in-hand and work off of each other's effects. Edea lets you special summon a monsters whose attack is 800 and defense is 1000 from your deck when she is summoned except herself. Leaving Eidos as a primary target. When Eidos is summoned he grants you an additional tribute summon for the turn. Allowing you to play one of your monarchs. The next effect of Edea lets you get back a banished Monarch spell or trap card when she goes to the graveyard, which plays well with Ehther. Eidos graveyard effect allows you to banish him from it and in exchange you can special summon Edea back from your graveyard, which triggers the combo all over allowing you to get another Eidos from your deck and do more Monarch crazy things
These are just 4 of the many powerful cards that are in Emperor of Darkness. It also features some great reprints such as: Tragoedia, Mathematician, Battle Fader, Rainbow Kuriboh, Soul Charge, and almost every Monarch/Monarch Support Card.
You can find Emperor of Darkness at your local hobby shops! And for a full checklist, check out the Beckett Online Price Guide.