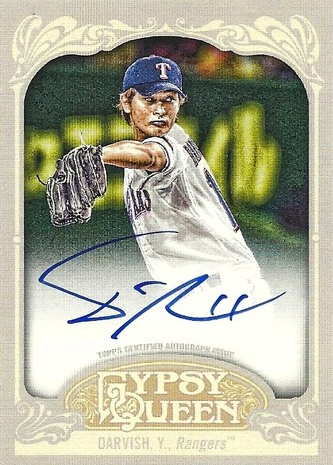 By Chris Olds | Beckett Baseball Editor | Commentary
He's been a star overseas, he's a millionaire many times over and, heck, he's even already been on the cover of Beckett Baseball before playing an official MLB game.
But Yu Darvish's gem on Tuesday night — 10 strikeouts in eight-plus scoreless innings for a 2-0 win over the New York Yankees — meant one thing.
He's truly arrived.
The same can be seen on his cardboard, though he's not exactly been cheap as all of his certified autographs that are presently available are of the needle-in-a-haystack variety and limited to just 25 copies. In other words, they weren't cheap to start with. But now?
"While most of his basic cards are selling strong within price guide ranges," said Beckett Baseball Senior Market Analyst Brian Fleischer, "good luck finding a Darvish certified autograph for under $500."
Darvish's newest autograph — and first that is not a redemption — is from 2012 Gypsy Queen. A copy of the card sold on eBay Friday morning for $850. A second sold on Thursday night for $900. With those — and more — sales in hand, the card will debut on the Beckett Sports Card Monthly Baseball Hot List at No. 8 in the next issue. (Need a Darvish checklist or OPG? Click here.)
These are prices on par with his 2012 Topps Tribute and Museum Collection autos — cards from products with much-higher pricetags per pack.
"His 2012 Topps Tribute autograph continues to hover around $1,000, while his 2012 Topps Museum Collection autograph has been selling around $800," Fleischer said.
Meanwhile, the Texas star's first Rookie Card — a short-printed card in Gypsy Queen — is a hot seller, too, selling for as much as $200.
Chris Olds is the editor of Beckett Baseball magazine. Have a comment, question or idea? Send an email to him at colds@beckett.com. Follow him on Twitter by clicking here.