Your Turn: Who's on your collecting Mount Rushmore?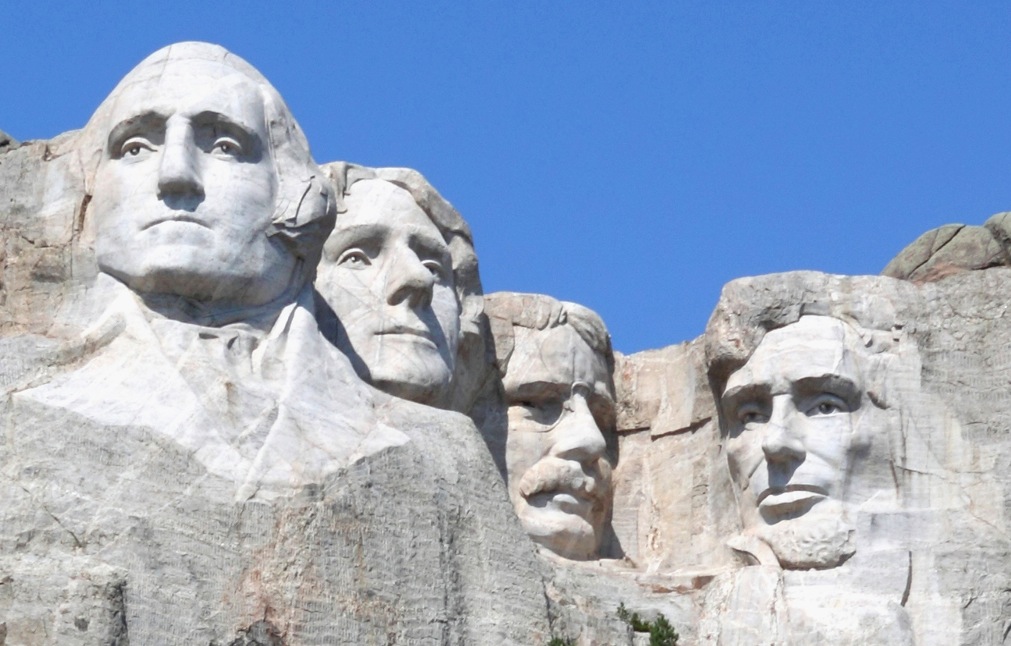 By Chris Olds | Beckett Baseball Editor | Commentary
It's a simple question that could spark many, many different answers, and it's one that I used to laugh at when it was posed in the newsroom from time to time when it came to sports debates. But it's also a question that seems to resonate with me as a collector so much to the point that I'm not sure I can even answer it decisively.
Who's on your Mount Rushmore?
As trivial as it may sound, picking a top four players for a team or a school may not be that hard if you're talking purely about one's place in history. But for a place in a collection? For me, it's tough.
ESPN even got into this debate some time ago with its own version. You can select your state and see its icons as voted on by readers. The picks for the state of Alabama, for example? Hank Aaron, Bear Bryant, Bo Jackson, Willie Mays. I could see that, though football seems to be a bit higher priority than that list may indicate.
The Mount Rushmore of Texas? It's perhaps changed since then … Lance Armstrong, Earl Campbell, Nolan Ryan and Tom Landry. Not bad, but I'd bet Armstrong falls off that list today. And no Emmitt Smith? Well, he was from Florida. So … Florida? Dan Marino, Don Shula, Bobby Bowden and Tim Tebow. Any of those names surprise you? (Not if you lived there in the last decade.)
How about New York? Babe Ruth, Joe Namath, Jim Brown and Jackie Robinson … what? No Mickey Mantle? And what about a lesser-populated state such as Wyoming? Rulon Gardner, Jay Novacek, Kenny Sailors and Bobby Harris, a pro rodeo star.
So, now, I pose to you this … a few scenarios of the Mount Rushmores of collecting. Who would be on these? (Tell us in the comments below.)
— The Mount Rushmore of your baseball team (four players/people)
— The Mount Rushmore of your state (four players/people)
— The Mount Rushmore of your school (four players/people)
— The Mount Rushmore of your collection (your best four cards)
— The Mount Rushmore of autographs (four best sigs)
— The Mount Rushmore of [pick any collecting subject]
Collecting is a very personal experience for many — so the answers may have similarities but there may also be differences based upon how someone picks.
For me, my picks would be personal. My Mount Rushmore of my baseball team would skew younger instead of older legends and skew toward power hitters. For Oakland, it'd likely be Jose Canseco, Mark McGwire, Rickey Henderson and Nick Swisher, though I liked watching McGwire more as a Cardinal. (Sorry, Reggie Jackson … see that spot between Roosevelt and Lincoln? You fell off.)
For my state? Well, I don't really claim one as I've bounced around. (You saw how the Wyoming list looked. I grew up there.) If I were forced to pick a Wyoming list, it couldn't even be a baseball list. It would be former NBA player John Johnson, former XFL quarterback Corte McGuffey (torched my school in basketball … but he has a Topps card!) and … I got nothing. Maybe Theo Ratliff or Fennis Dembo? Or not …
For my school, Alabama, I'll go with Bear Bryant, Joe Namath, Shaun Alexander and Mark Ingram. (Oh, wait … this is a baseball list. Common Alabama mistake.) I'll go Hall of Famer Joe Sewell, Dave Magadan, Andy Phillips and Mel Allen. Sure, Allen's not a player … but he's all over some moments in MLB history as a broadcaster for the Yankees.
For my collection, this one's also too tough, but I know my Roger Maris Rookie Card would be there along with Henderson's RC and likely Canseco's 1983 Madison Muskies card. After that, I dunno, maybe my T206 Christy Mathewson? I'll be interested to see if you guys can pick just four — and whether it was easy.
My Mount Rushmore of autographs obtained in-person would be … Hulk Hogan, Joe Namath, Jose Canseco and Nick Swisher. Three of the four weren't easy — in fact one was absolute dumb luck with Namath at the 2000 Iron Bowl. (That's a story I'll tell here someday.) For certified autos, I'd go
I'll do card brands as my last one. I'd pick, as my personal top four: Allen & Ginter, Topps Heritage, USA Baseball boxed sets and Topps T205. That last one is another one I'll explain, too … someday.
What are your Rushmores? Tell us in the comments below … we might run a selection of the most interesting or creative answers in an upcoming magazine.
Chris Olds is the editor of Beckett Baseball magazine. Have a comment, question or idea? Send an email to him at colds@beckett.com. Follow him on Twitter by clicking here.