Your Turn: Which 2014-15 NHL Rookie Will Win the Calder Trophy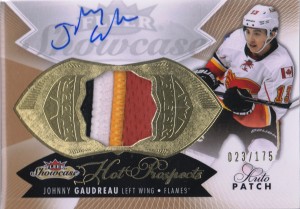 By Eric Norton | Beckett Hockey Analyst
As the 2014-15 regular season NHL campaign draws to an end, and the playoffs lie in wait, Calder Trophy contenders are making their final bids for the hardware. Past winners of the award read like a who's who of the NHL. Names like Bobby Orr, Ken Drayden, Ray Bourque, Mario Lemieux, Peter Forsberg, Alexander Ovechkin, and Patrick Kane just to name a few. The contenders this season are first rounders, mid-rounders, and late bloomers, but they all have a case to be made for winning.
Johnny Gaudreau, LW, Calgary Flames – 2011 NHL Entry Draft (104th overall)
Through 80 games Gaudreau has 24 goals and 40 assist (24-40-64) which leads all rookies in scoring. The left winger from Calgary has absolutely set the NHL on fire (no pun intended) and may be the odds on favorite to win.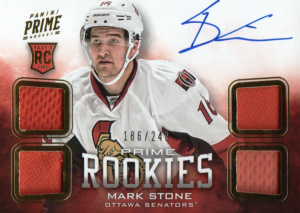 Mark Stone, RW, Ottawa Senators – 2010 NHL Entry Draft ( 178th overall)
In 79 games Stone has 24 goals and 38 assist (24-38-62) and is tied for second in rookie scoring and leads all rookies with +20 rating.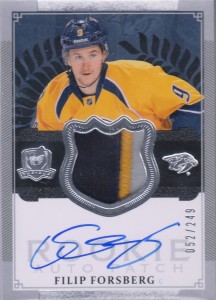 Filip Forsberg, C, Nashville Predators – 2012 NHL Entry Draft (11th overall)
Through 81 games Forsberg has 25 goals and 37 assist (24-37-62) which ties him for second in rookie scoring, and he is also tied for second in goals by a rookie, but some consider his play to have slumped after the All-Star break.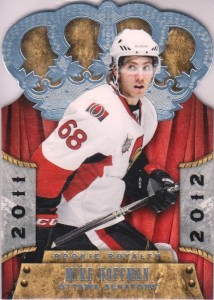 Mike Hoffman, LW, Ottawa Senators – 2009 NHL Entry Draft (130th overall)
Hoffman has appeared in 79 games this season and leads all rookies with 27 goals and has added 21 assist as well (27-21-48). He is also second among all rookies with a +16 rating.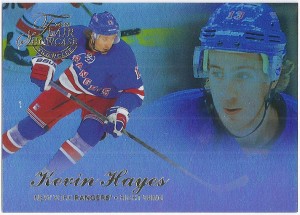 Kevin Hayes, RW, New York Rangers – 2010 NHL Entry Draft ( 24th overall)
Hayes has been solid on the ice this season netting 16 goals and helping on 27 others (16-27-43). He is tied for third among rookies with a +14 rating and is fifth among all rookies in scoring.
So what do you think? Was Forsberg's early season efforts enough to take home the trophy? Will the hype around "Johnny Hockey" land him the hardware? Or does an outsider like Hayes have a shot? Perhaps we omitted a name? Let us know in the comments below.