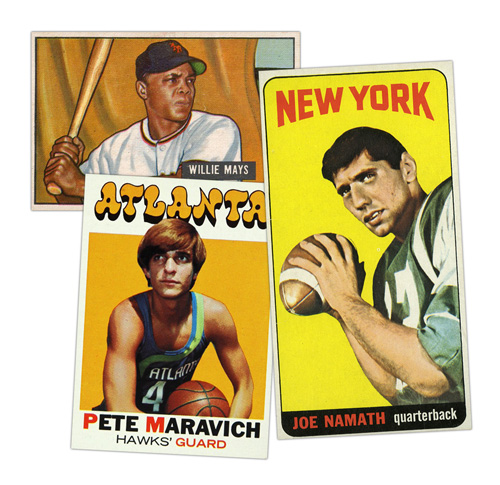 By Chris Olds | Beckett Sports Card Monthly Editor
When it comes to collecting vintage cards, it's no secret that it's a different animal despite the simplicity of yesteryear's cardboard.
Counterfeits, trimmed cards, awful printing and cutting jobs are among the obstacles when it comes to finding your key card — if you can find it at all. Then, of course, there are other debates — do you buy graded, do you buy high-grade cards or durable beaten-down copies that you can afford?
Of course, that's presuming you can find the cards at all.
For the next issue of Beckett Sports Card Monthly, we'll be looking at notable names as well as fun and interesting cards all of the vintage variety (by Beckett definition, that's 1980 and before). As part of that issue, we'd like to know your thoughts on collecting vintage and we'll share a sampling of your thoughts left here in the magazine.
So, all that said …
What concerns you the most about collecting vintage cards?
What do you like about vintage cards?
What makes vintage cards an attractive collecting niche in your mind?
Tell us what you think on those three points — and tell us whatever else is on your mind when it comes to these cards in the comments below.
—
Chris Olds is the editor of Beckett Baseball and Beckett Sports Card Monthly magazines. Have a comment, question or idea? Send an email to him at colds@beckett.com. Follow him on Twitter by clicking here.