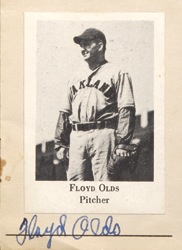 By Chris Olds | Beckett Sports Card Monthly Editor | Commentary
Collecting can bring out the little ironies of life — like when you buy dozens of packs and come up one card short of a set or when you visit a card show or shop and can't find a card that costs 25 cents.
With vintage collecting, it can get even tougher as there are simply cards — not the Toppses and Bowmans of the world — that you just don't see everyday … or every month … or every year.
One of the cards that I have a trivial interest in — that I have yet to see in-person — is a card of Floyd Olds, a former minor-league pitcher who won 101 games over nine seasons but never made it past Class-AA.
Ironies? His name, of course — he's not related, but I looked — and he's the only Olds to play baseball and have a card. He played for the Oakland Oaks and it's during those years where he appeared on his only two releases in the Beckett database, a 1937-38 Zeenut card and the 1938 Oakland Oaks Signal Oil Stamps card seen above.
I'd like to own them both — for trivial reasons — but they're just not the kind of cards you see every day. I fact, I've never even seen a scan of the Zeenut card.
Combined they'll probably cost me $100, maybe more. That's steep even to me, but I've never been presented with that dilemma, that choice by seeing either of them in person.
The Signal card above is from a 2010 Legendary Auctions sale of an entire album that actually was signed by several members of the team with the cards affixed to the pages. It went for $593. The Zeenut card? I've never even seen one for sale — though I'll confess that I'm not also regularly scouring potential places to find it, either.
With all that said, for the upcoming Vintage Issue of Beckett Sports Card Monthly, we simply want to hear your tales of the one  vintage (pre-1980) card you simply cannot find — and why. It can be for any sport — or even non-sports.
Just tell us … What vintage card continues to elude you — and why? Did you pass one up and never see it again? Is it too rare? Or are you too picky?
We'll select the most-interesting replies and they'll appear in the issue. Who knows — somebody may see it and have the card for you.
Chris Olds is the editor of Beckett Baseball magazine. Have a comment, question or idea? Send an email to him at colds@beckett.com. Follow him on Twitter by clicking here.