Young Dolph Cameo Sends 2019-20 Panini Chronicles Ja Morant Card Soaring
Ja Morant already had the most recognizable card in 2019-20 Panini Chronicles Basketball thanks to his Luminance card showing his instant-classic jump over Kevin Love. Now a second card of the young star has taken off thanks to a background appearance by Young Dolph, a rap star who was killed in Memphis on November 17.
The Power of the Cameo
The card in question is #116 on the Chronicles checklist, Morant's Panini card. The Grizzlies star stands flexing on the court. Behind him in the crowd is Young Dolph. Although Morant is clearly the focus of the card, the musician is still prominent on the side of the photo, sitting just behind the cameraman. Standing next to him in the orange pants is Key Glock, Dolph's cousin who is also a rapper.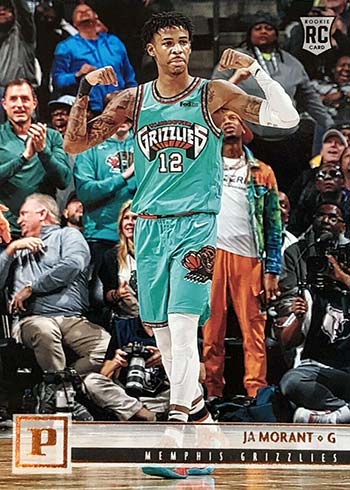 Before word started getting around about the cameo on social media last week, the card could be found raw for under $5. However, a flurry of action has sent prices soaring. It's extremely volatile at the moment with some crossing the $70 mark. Even at the low end for the moment, lots of cards are getting $30 and up.
This is now one of my favorite all time Cards… a couple of Memphis Legends immortalized in a card. @JaMorant & RIP @YoungDolph @CardPurchaser pic.twitter.com/8ghebiR80i

— ABlackNerd (@ablacknerd) November 25, 2021
The situation is reminiscent of another cardboard cameo — Lyle and Eric Menendez on Mark Jackson's 1990-91 Hoops card. The brothers, who were convicted of the 1989 murder of the parents, are shown sitting together at courtside. In December, 2018, mainstream stories about the card sent it from common bins to more than $20. Prices have dropped back significantly since but it's still one of the more coveted cards in the set.
Don't be surprised if the 2019-10 Panini Chronicles Ja Morant/Young Dolph follows a similar path. For the moment, many of the rappers fans — who may or may not be collectors — will likely scoop up copies.
Once the story quiets down, it'll likely settle higher than it originally was now that there's a story connected to to, but lower than its peak. The Panini cards are among the more common cards in the anthology-style Chronicles release.