You want our rare cards? We want to see your SuperCollector submissions & your deadline is Dec. 8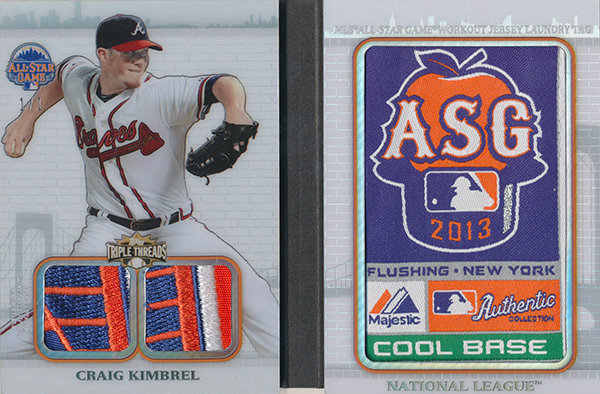 By Chris Olds | Beckett Sports Card Monthly Editor
We pulled a pretty sweet 1/1 Craig Kimbrel Relic booklet out of Triple Threads and a rare rookie parallel of Teddy Bridgewater out of Rookies & Stars (/5) and we want them to be yours.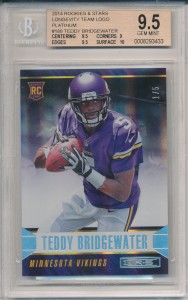 Two collectors will get their hands on them if they submit their SuperCollector stories for the upcoming annual SuperCollector showcase issue of Beckett Sports Card Monthly.
Your deadline is Dec. 8.
We run SuperCollector nearly every month in the magazine, setting aside space for your stories, your photos and your information. This time, though, it's our annual showcase issue where we highlight 15 to 20 collectors for the world to see.
Perhaps it's because of your massive collection of Larry Bird cards — or perhaps it's for your stash of hundreds of through-the-mail baseball autographs. Whatever it is that you collect, we want to hear about it, whether it's baseball, football, basketball or hockey — or any other sport … or non-sports … or whatever you can imagine.
After the jump, you will find step-by-step instructions on how to enter — what to say, what to send and where.
—
–
CLICK HERE FOR A PRINTABLE SINGLE PAGE ON THE STEPS TO ENTER
–
STEP 1 … START YOUR EMAIL
In an email to BeckettSuperCollector@gmail.com include the following:
— Your name
— Your age
— Your state (or country if outside the United States)
— Your email (if you want it published with your item so others can contact you)
— Most importantly, state WHO or WHAT you collect.
STEP 2 … COMPILE YOUR 'BY THE NUMBERS' STATS
The By The Numbers section is a very important part. Compile your stats for:
— total cards
— different cards
— 1/1 cards
— certified autos
— game-used cards
— Rookie Cards
— graded cards
— other key items in your collection
This is where you make your case for your collection with numbers. Perhaps include how your totals compare to the overall number of cards made or anything else you feel helps make your case. Numbers matter … but they are not the only thing.
STEP 3 … MAKE YOUR CASE
In the email, we need you to tell us your story. Tell us why your collection is special, what makes it unique, what makes it different from all of the rest. In several paragraphs, tell us what your collection is all about. Share your memories, your highlights, your goals and your mission with your collection. Wow us and you just might see yourself in a future issue.
STEP 4 … PICK YOUR FIVE FAVORITE CARDS OR ITEMS — AND SHOW THEM TO US 
As a new inclusion, we want all SuperCollectors to pick their top five cards or items and tell us why for each one. Rank them and tell us what makes them cool. We expect to see all five of these items or cards with scans or photos … which leads us to the next step.
STEP 5 … TAKE QUALITY PHOTOS AND SCANS
We need to see your collections, and, more importantly, we need to see you. Send us a small selection of images of you with your collection (holding favorite cards or sitting among a displayed collection). In addition to that, send us your five favorites as noted in Step 4 along with images of other items in your collection that are of note, too. You can either send them as attachments or place them on a photo-hosting site. If you take the time to do a good job compiling this — and send us a selection of only your best items. (Olds just doesn't have the time to pick through 300 pages on your Photobucket!) Make sure these images are large and bright enough to see everything on your screen!  Note: We can't run your info without photos … and we can't run it with bad ones, either.
STEP 6 … BE COMPLETE — AND SEND IT
Send all of this in an email to BeckettSuperCollector@gmail.com and carbon-copy colds@beckett.com as well. We'll be in touch when we check the mailbox for new submissions every month and will be in touch if we need more info. If you don't include everything in your submission, your chances of being selected are not good.
STEP 7 … BE PATIENT — AND CHECK OUT OUR MAGS
We will be in touch with SuperCollectors in many instances but not always before they appear in a magazine. Most submissions will appear in Beckett Sports Card Monthly but also may appear in other titles. Be sure to check out each month's issue to see who made the cut and how you may stack up.
Have any questions? Send an email to colds@beckett.com.
A sampling of past SuperCollectors can be seen below for you to examine.
—