Yogi Berra autograph cards by the numbers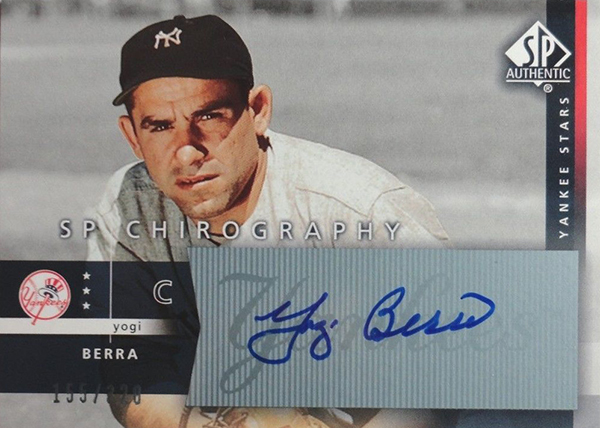 By Ryan Cracknell | Hobby Editor
You don't become one of the most beloved figures in sports by accident. And even if you could, it would take a lot of little accidents to be embraced like Yogi Berra was. He was a man who loved baseball. All the stories you hear about him, he seemed to enjoy life for all its quirks as well.
From a hobby perspective, you can see that love come across in the popularity of Yogi Berra cards. He might not carry the same values as some other Yankee greats, but does that really matter. Give virtually anyone familiar with baseball a Yogi Berra card and they'll likely smile. Even if they loath the Yankees, it's tough to do the same for Berra.
In recent years, Berra made himself available in the hobby. He has more than 1,000 different autograph cards, virtually all of which were signed after his 70th birthday. And they're legible, too. Berra doesn't have the most eloquent signature but it's certainly more than the single squiggles that a lot of today's players seem to have.
We've compiled some stats about Yogi Berra autograph cards as well as highlighted eight notable and relatively available cards.
Yogi Berra Autograph Card Stats
Stats reflect cards cataloged in the Beckett database as of September, 2015. You can find a full checklist and price guide of Yogi Berra autograph cards in the Beckett database.

Total Certified Autograph Cards: 1,036
Oldest Certified Autograph: 1983 ASA
Last Certified Autograph (excluding cut signatures): 2014 Panini Classics
Last On-Card Autographs: 2013 Panini Cooperstown
By manufacturer:
Topps – 449
Upper Deck – 273
Donruss Playoff – 163
Panini America – 64
Fleer – 48
Other details:
On-Card Autographs – 252
Dual-Autograph Cards – 61
Triple-Autograph Cards – 46
8 Yogi Berra Autograph Cards That Won't Break the Bank
1997 Donruss Signature Significant Signatures Yogi Berra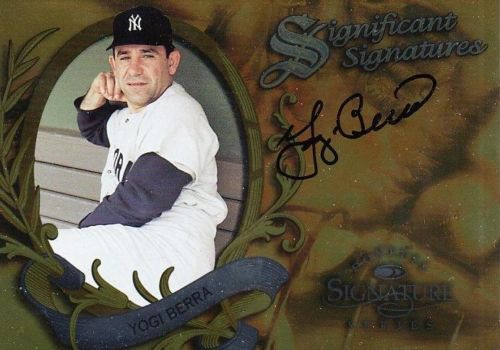 1998 Donruss Signature Significant Signatures Yogi Berra /2000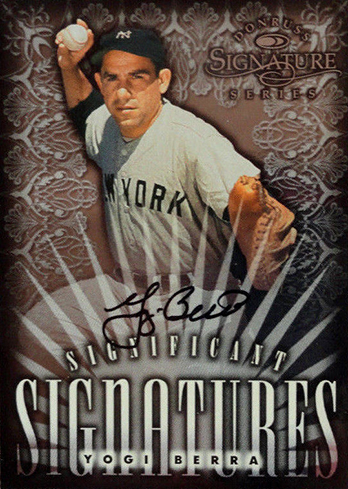 1999 Upper Deck Century Legends Epic Signatures Yogi Berra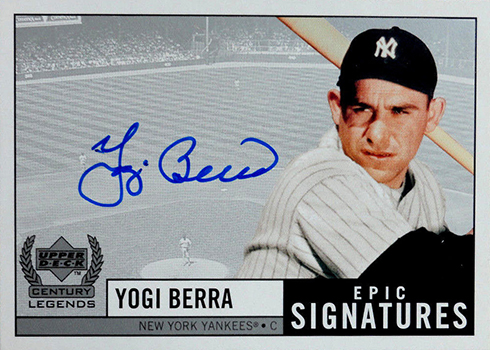 2001 Greats of the Game Autographs Yogi Berra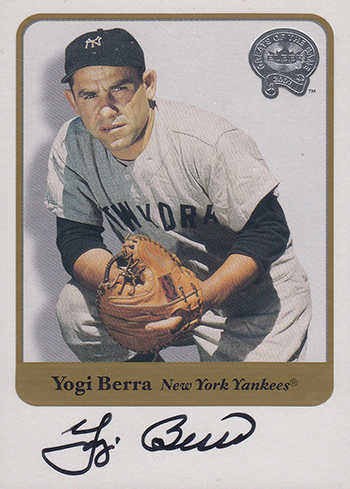 2002 Bowman Heritage 1954 Reprints Autographs Yogi Berra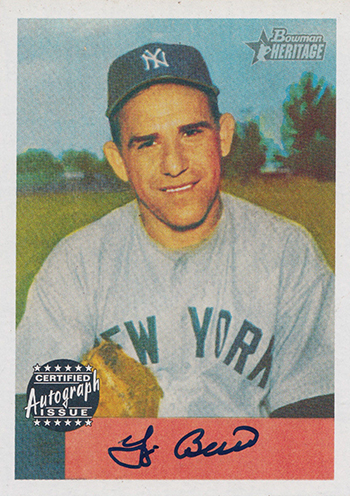 2003 SP Authentic Chirography Yankees Stars Yogi Berra /320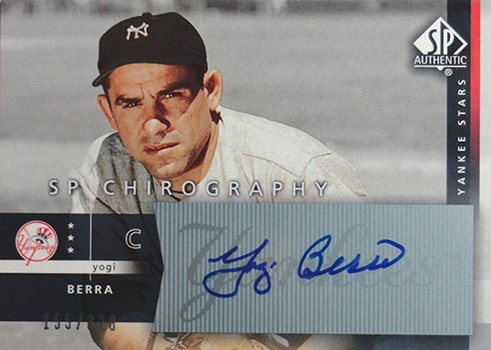 2003 Upper Deck Yankees Signature Series Pride of New York Autographs Yogi Berra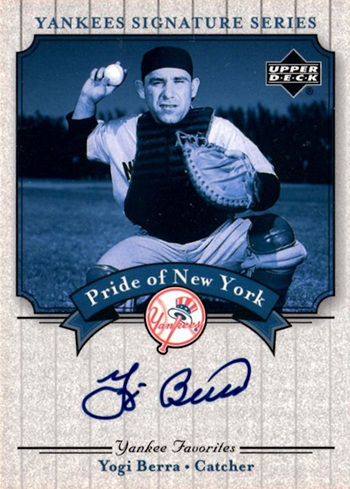 2005 Topps All-Time Fan Favorites Autographs