Yankees' Derek Jeter tops MLB jersey sales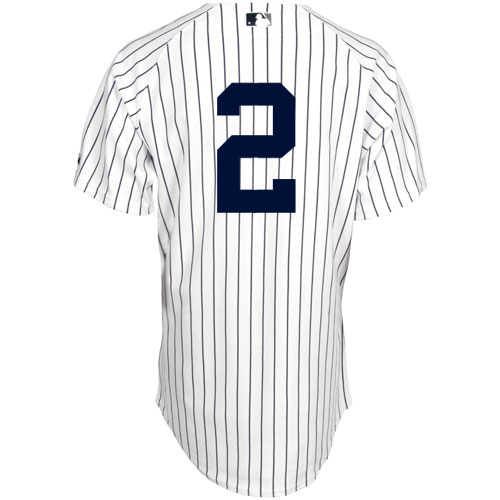 By Chris Olds | Beckett Baseball Editor
In a season with plenty of breakout stars and newcomers, one constant is atop the list of MLB's best-selling jerseys.
It's the good ol' No. 2 of the New York Yankees, the jersey of shortstop Derek Jeter.
The MLBPA released its list of best-sellers since the All-Star break this week and it's a list that includes 12 teams represented among the top 20 players. The Yankees check in with three players in the top 10 — including newcomer Ichiro Suzuki at No. 3 — while four rookies can be found on the list.
While it's not a perfect barometer, jerseys sales — in essence a reflection of player popularity or interest in certain markets — is another way to gauge a player's cardboard potential as well.
The full list …
1.        Derek Jeter, New York Yankees
2.        Josh Hamilton, Texas Rangers
3.        Ichiro Suzuki, New York Yankees
4.        Bryce Harper, Washington Nationals
5.        Mike Trout, Los Angeles Angels of Anaheim
6.        Andrew McCutchen, Pittsburgh Pirates
7.        Yu Darvish, Texas Rangers
8.        Chipper Jones, Atlanta Braves
9.        Justin Verlander, Detroit Tigers
10.        Robinson Cano, New York Yankees
11.        Matt Kemp, Los Angeles Dodgers
12.        David Freese, St. Louis Cardinals
13.        Joey Votto, Cincinnati Reds
14.        Ian Kinsler, Texas Rangers
15.        Prince Fielder, Detroit Tigers
16.        Jose Bautista, Toronto Blue Jays
17.        Buster Posey, San Francisco Giants
18.        Yadier Molina, St. Louis Cardinals
19.        Miguel Cabrera, Detroit Tigers
20.        Brett Lawrie, Toronto Blue Jays
Chris Olds is the editor of Beckett Baseball magazine. Have a comment, question or idea? Send an email to him at colds@beckett.com. Follow him on Twitter by clicking here.