X's and Owens – Beckett Pricing Insider
Terrell Owens hasn't been in the NFL since 2010. That hasn't kept him out of the headlines.
Owens is part of this year's Hall of Fame class, the ceremony for which he's boycotting. Owens says it's for the players who have had to wait so long to get in. Owens himself was eligible for three years before finally getting in so he might be a little bitter.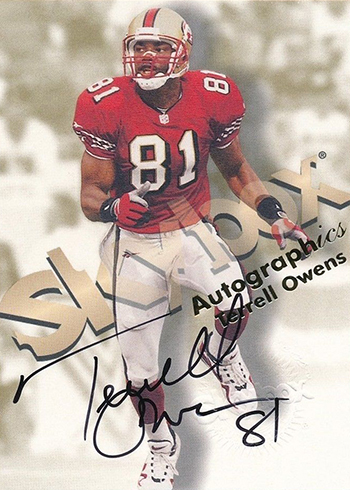 For just about any other player, this would be big news. But Terrell Owens isn't just any other player. He made a career out of finding ways to be a little extra.
The wide receiver is also making headlines because he still wants to play professional football. And there's a possibility he might get a chance in the Canadian Football League. The Edmonton Eskimos have the rights to T.O. For those who think he can't still play football at the pro level might be in for a surprise. Owens can still run the 40 in under 4.5 seconds. Only five players had a better time at this year's Rookie Combine.
So, what does that mean for Terrell Owens cards? Getting into the Hall of Fame doesn't generally increase values. At least on a huge level. It's one of those things that's usually expected.
But playing football again after an absence might give his cards a bit of a boost. Johnny Manziel saw an increase in his values and he isn't even playing. Owens' rookie cards from 1996 are pretty reasonable to get hold of, averaging around $10-$12 for the higher end cards. Out of the more than 4,700 total Terrell Owens cards, ten are Rookie Cards.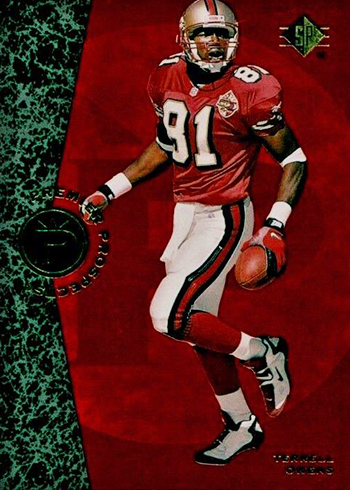 Let's talk about the good stuff: autographs. T.O. has 101 of them, the first coming in 1997 in Leaf Signature Series, which has 3,000 copies.
In ensuing years, his autographs start getting more scarce. By 2010 he only signed for one product–Topps Five Star. The average price for his autographs are around $40-$60. His last licensed cards came in 2012 Topps Triple Threads where he was part of a multi-player jersey card with Steve Young and Jerry Rice.
If Terrell Owens does play professional football again there could be some interest in other cards. A potential CFL Rookie Card would probably be a popular card for sure. Any new autographs should be highly sought after as well. Who knows? We might actually see a CFL card break onto the monthly Beckett Hot List.