WWE legend Jerry Lawler collapses during show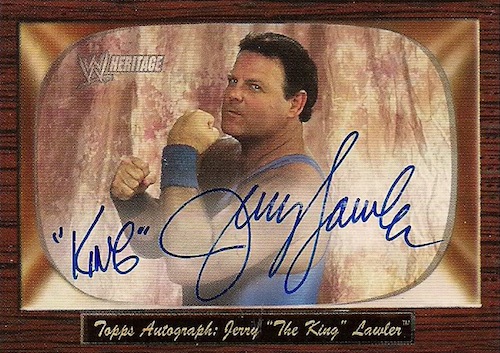 By Chris Olds | Beckett Sports Card Monthly Editor
Memphis wrestling legend Jerry "The King" Lawler, a WWE Hall of Famer and announcer during Raw telecasts since the late-1990s, collapsed at ringside Monday night during the live broadcast in Montreal. According to published reports, he was responsive by the end of the show after suffering a heart attack.
Perhaps best-remembered for his early 1980s feud with comedian Andy Kaufman and their fight on Late Night with David Letterman, Lawler, 62, has wrestled regularly since 1970 and fought in an impromptu match earlier in the evening before resuming his announcing duties. He collapsed at the desk and fell to the floor during a tag match before being taken backstage during the three-hour broadcast.
Later in the show, fellow announcer Michael Cole told viewers at home that Lawler was being attended to backstage — that the events were not part of the programming — and following segments of Raw ran without commentary. After a second announcement that Lawler was taken to a local hospital, the show continued without commentary for its final 30-plus minutes and ended with a final update on Lawler's status.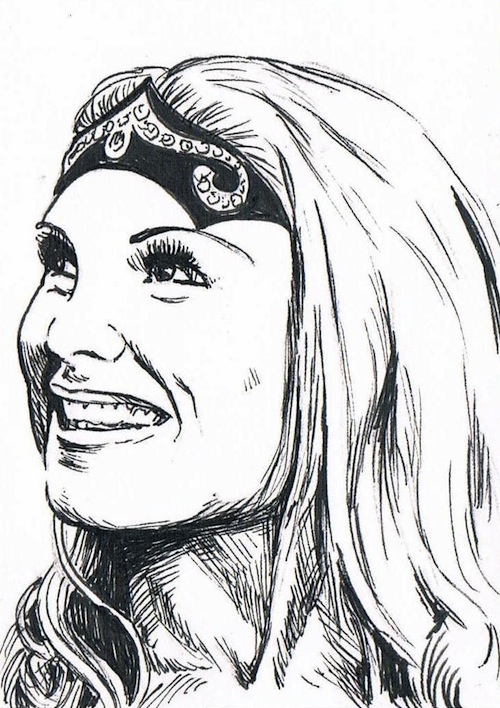 On cardboard, Lawler appears on exactly 100 cards in the Beckett.com database (click here for a checklist or OPG) with his debut coming in the landmark 1982 Wrestling All-Stars Series A set. His WWE card debut came in 1995 via the Action Packed release.
Lawler appears on just two certified autograph cards, the first coming in the 2005 Topps WWE Heritage Autographs set, Topps' first in nearly a decade after its wrestling card debut. His only other signature came in the 2006 Topps Heritage Chrome Autographs set. He appears on just three memorabilia cards, each coming in the  the 2012 Topps WWE set that arrived this month. None of his standard trading cards regularly sell for more than $40.
A collector of Cleveland sports and Coca-Cola memorabilia, Lawler's foray into wrestling actually came via his talents for art. His drawings of wrestlers when younger was part of his entrance into the wrestling world, while he  has penned a small number of 1/1 sketch cards (above) for a couple of recent Topps WWE releases, including Topps' latest.
Chris Olds is the editor of Beckett Sports Card Monhtly magazine. Have a comment, question or idea? Send an email to him at colds@beckett.com. Follow him on Twitter by clicking here.
Below is a clip of the Lawler-Kaufman appearance on Letterman.
[youtube]http://www.youtube.com/watch?v=FSn-pvZopns[/youtube]