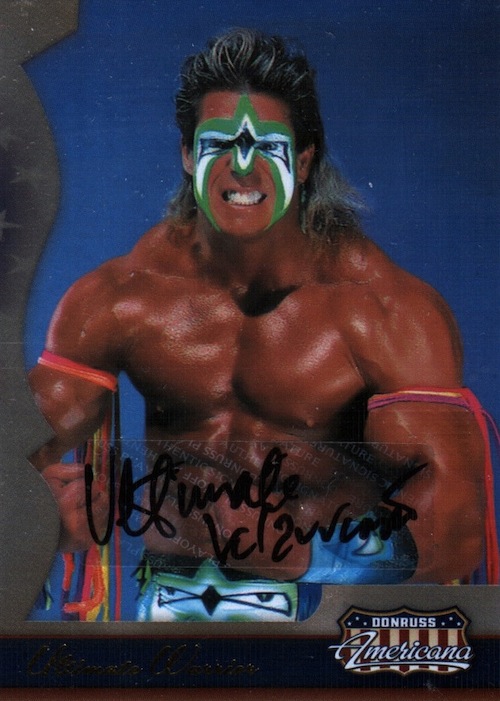 By Chris Olds | Beckett Sports Card Monthly Editor
Less than 24 hours after appearing on World Wrestling Entertainment's Raw and just days after his induction into the WWE Hall of Fame, the Ultimate Warrior has died. He was 54 and a cause of death was not announced.
"WWE is shocked and deeply saddened to learn of the passing of one of the most iconic WWE Superstars ever, The Ultimate Warrior," read the company's statement Tuesday night.
Known for his other-worldly persona and spiritual-yet-eccentric promos, Warrior was born James Hellwig but legally changed his name to Warrior in 1993. The move was in part to help his battles for ownership of his wrestling character and his trademarks, which originated as the Dingo Warrior in the 1980s while working for Dallas-based World Class Championship Wrestling. He worked for WWE, then-WWF from 1987 to 1991, winning the WWE title from Hulk Hogan at WrestleMania VI in 1990. He returned to the company briefly in 1992 before retiring and then again returning in 1996. He also worked for WCW briefly in the late 1990s.
Warrior's induction into the WWE Hall of Fame on Saturday, where he was the headliner, was a return after years of estrangement from the company. He signed a promotional deal with WWE to begin his comeback last year. He noted that he signed a multi-year deal with the company as an ambassador during his Hall speech Saturday night, but lamented missing the ring.
"Your body is an incredible thing and it can be pushed so far," he said in his speech (a portion is above). "You can do so much more than you think you can. … [Wrestling] was so incredible that I would give a few years I have left to go back and experience that kind of thing again."
At the end of his speech, he spoke directly to the younger stars of the WWE.
"The writing is already on the wall. Your time is going to come and go," he said. "It's not going to be anything personal when it's time to go. It's just going to be the way it is. You need to use this opportunity to prepare yourself for all the other incredible things you can still do in your life beyond your time here in the ring. Get out  into the arena of life and make it happen there."
For collectors, the colorful Warrior character can be found on countless pieces of memorabilia, action figures, magazines, comic books and other items. He appears on 72 cards and similar items in the Beckett.com database (checklist/OPG here) valued at just under $500 excluding rarities. He made his mainstream WWE trading card debut on several cards in the 1990 Classic sets.
Warrior signed just eight certified autographs during his life, all for Donruss (now Panini America) between 2007 and 2008. His debut autograph came in the 2007 Americana Private Signings set, a card that is limited to 250 copies and typically sells for $50 or less. That card is the most-plentiful of all of his autographs with six of the cards limited to 50 or fewer copies. A pair of his match-used trunks were cut up to make four memorabilia cards in the 2007 Americana release, the most plentiful card being limited to just 95 copies. It typically sells for $20 or less.
He has not appeared on a trading card since 2008.
He is survived by his wife, Dana, and two daughters.
Chris Olds is the editor of Beckett Baseball and Beckett Sports Card Monthly magazines. Have a comment, question or idea? Send an email to him at colds@beckett.com. Follow him on Twitter by clicking here.