Wrestler CM Punk to write Thor comic book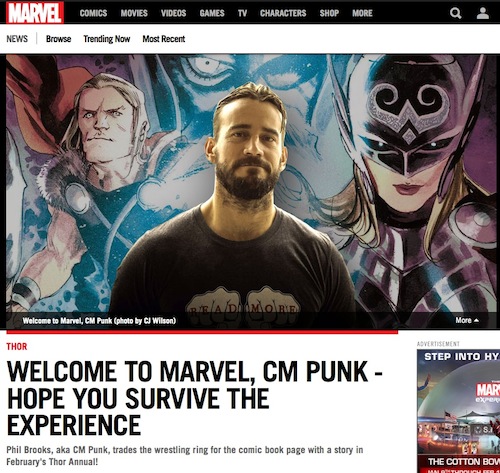 If you have purchased any wrestling cards in the last decade, odds are you have one of his cards — maybe even an autograph.
After all, CM Punk has plenty of stuff in the Beckett database — and his real-life wife, WWE Diva AJ Lee, does, too.
What you might not know is that Punk — real name Phil Brooks — is a big comic book fan and Marvel Comics announced Monday that he will have a new title soon.
He's becoming a comic book writer — and he's taking a crack at Thor in its Annual No. 1, which is set to arrive in February, as a guest scribe.
"You know, I think I'm more suited for it just because I've been reading comic books my entire life," said Brooks, who left WWE in January. "I'm definitely prepared to fall flat on my face, I think. If anything, [wrestling] got me used to understanding that failure is part of a process, and the only real failure is if you don't try."
Read more about the news in an interview with Marvel right here.