WR Allen Hurns Named Finest Mystery Rookie Auto Redemption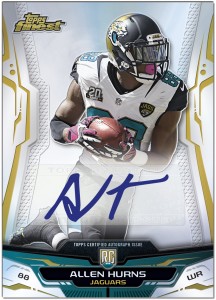 Topps has announced Jacksonville Jaguars wide receiver Allen Hurns as the Mystery Rookie Autograph Redemption player in 2014 Topps Finest Football. Hurns is currently tied for most touchdown catches (5) among rookies. Yesterday against the Dallas Cowboys, he hauled in 112 yards and two touchdowns.
Look for first pricing on 2014 Finest in the December issue of Beckett Football, on newsstands now!
David Lee
Editor, Beckett Football
Twitter: @FreeEnergyDude