Would you get a tattoo of a card company logo? This collector did.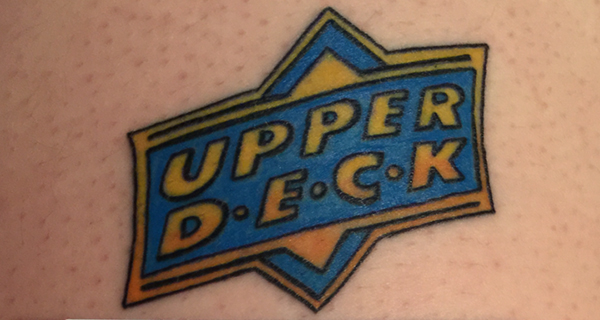 By Ryan Cracknell | Hobby Editor
Tattoos are intended to be something personal. They come in all shapes, all sizes and are placed on all parts of the body. No matter what they're of, they're symbols of who we are and what we love — at least at the moment that we got them.
For Matt Donovan, that meant getting a tattoo of Upper Deck's logo.
Donovan, a bank manager, got the tattoo in August. It's on his thigh so it's not on display very often, especially when he's at work.
It was a simple gesture that made Donovan a fan of the manufacturer several years ago.
"I have always been a fan of Upper Deck," he said. "When I was younger, about eight or so, I wrote [Richard] McWilliam a letter and he took the time to respond and send me a package of about 50-60 packs of cards."
2015 marked the first time Donovan made it to the National Sports Collectors Convention and got the tattoo shortly thereafter.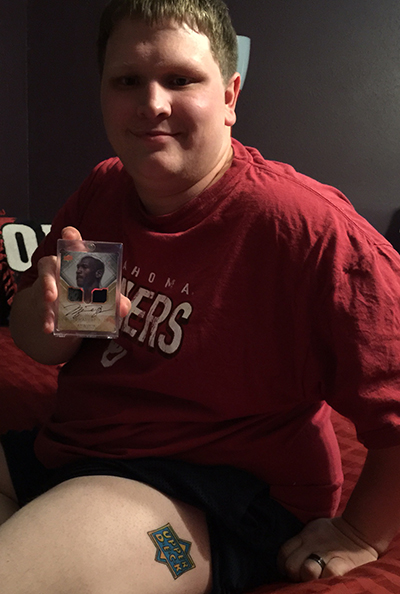 "Reactions have been mixed. A lot of people don't understand why I would get their logo, but I love it," said the Stillwater, Oklahoma resident. "Card collecting has been a large part of my life and it is something my family enjoys doing together."
One of the people happy about the tattoo was the artist who did it at Black Shamrock 215.
"He was pretty excited, he loved the story about Mr. McWilliam and just learning about the hobby."
And what about Upper Deck?
"Matt is a very passionate fan. I met him and the National and he shared his intentions of getting an Upper Deck tattoo, which was pretty flattering for a collector to appreciate the brand so much he would want to have it on his body forever," said Chris Carlin, Upper Deck's Senior Marketing and Social Media Manager. "It is definitely a one-of-one!"
Donovan has been collecting for more than 20 years. He got into the hobby because of his uncle. Today Donovan focuses most of his collection on football and Oklahoma Sooners. He's also trying to track down some of the fossil cards found in Goodwin Champions.
This is the fourth tattoo for the husband and father. Done in full color, it's about the size of a card, which seems even more appropriate.