Would Justin Verlander's second no-no of season have ignited interest in his baseball cards?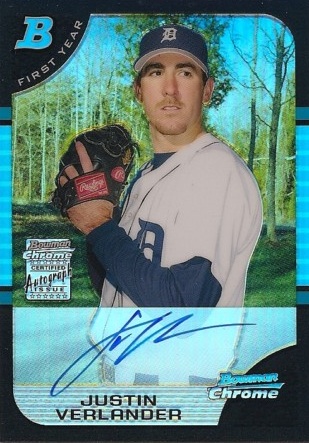 By Chris Olds | Baseball Editor | Commentary
Detroit Tigers ace Justin Verlander flirted with throwing his second no-hitter of the season Tuesday night against the Cleveland Indians, blanking his AL Central rivals before giving up a hit in the eighth and recording the win in a 4-0 victory.
His first no-no came on May 7 against the Blue Jays and it really didn't generate much heat for his cards at all … it should have — and a second no-no should have propelled him firmly into the elite of MLB arms in many minds if not already there. It would have been his third career no-no — breaking a tie with Mark Buehrle and Roy Halladay for the most by an active MLB pitcher. (It's worth noting that Verlander is the youngest of the three, too.)
Yet the slugger-centric mentality of the hobby might have left this one once again as one for the highlight reels — and not so much for his cards. It wasn't to be — but I'm optimistic that such dominating showings might help a few collectors latch onto players whom they might not have in the past. You know, back in the days when we were all marveling at tape-measure home runs that turned out to be, um … wind-aided? (Yeah, that's it … )
Or, perhaps — though I'd not agree — some may feel that he's already too valuable.
In all, Verlander appears on 3,017 different baseball cards and of those priced in the Beckett.com database they'll cost you roughly $29,783 (or less) to own. He's a relatively plentiful signer — 619 of those are autographed cards — and he's got nearly just as many game-used cards at 526.
But, of course, it would have been his Rookie Cards that collectors would have latched onto — and he's got 47 of them since there were plenty of card companies making MLB cards in 2005. Of those 47 — only those tagged as RCs — seven command $100 or more with the most-expensive being his Ultimate Collection card, which is limited to just 99 copies and sells for as much as $300.
However, the most serious money comes with one 2005 Bowman Chrome Refractor — not tagged as an RC since it's an insert card. His Gold Refractor, limited to 50 copies, books for $800. Meanwhile, lesser Refractors sell for $250 (Blue), $150 (X-Fractor) and $120 (standard Refractor). His standard Chrome autograph commands as much as $80 — perhaps that's a card with room to grow.
Has Verlander  tapped out his cardboard potential? That's for the buyers to decide, but performances like those we saw on Tuesday night might not make that call so easy to make.
Chris Olds is the editor of Beckett Baseball. Have a comment, question or idea? Send an e-mail to him at colds@beckett.com. Follow him on Twitter by clicking here.