Woooooo! "Nature Boy" Ric Flair is ready for the Fall 2016 Sportcard & Memorabilia Expo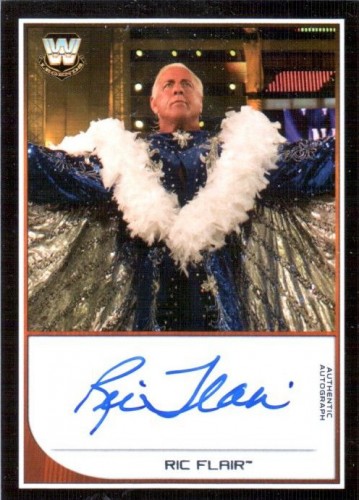 By Stephen Laroche | Beckett Sports Card Monthly Editor
The Fall 2016 Sportcard & Memorabilia Expo in Toronto is just a few weeks away, but the show is ready to bring fans in attendance the opportunity to meet one of professional wrestling's greatest legends – a limousine-ridin', jet-flyin', kiss stealin', wheelin' dealin', son-of-a-gun known as "Nature Boy" Ric Flair.
A frequent autograph guest at trading card shows and wrestling fan conventions in recent years, Flair is giving his fans north of the border their first chance to get his signature through a public signing in over a decade and the chance to meet with such and rabid and knowledgeable group on November 13 has him excited.
"I don't think I've done an autograph signing in Toronto since I did one for my book in 2005 or 2006," he told Beckett Sports Card Monthly. "I think the interaction with fans that have been watching me for four decades and to see the young kids. YouTube has kept us all alive, way past our years, and the WWE Network has been great, so I think it's the interaction with the fans and just having fun. They've been fun to do!"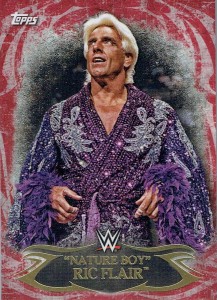 Flair also had high praise for the city as he regularly performed there throughout his four decades in the ring.
"For me it was great. I loved Maple Leaf Gardens, but we were starting from scratch. The Sheik had killed the Gardens, killed it dead. He and Whipper Billy Watson with 30 second main events, throwing fire, it just killed the business. When we moved in there, it was starting from scratch. The crowds that were there were enthusiastic and they grew and grew and grew, and we eventually got them back. You can't be paying that kind of money and then having a guy throwing fire for 30 seconds and then just walk out the door. That really hurts your business."
He also reflected on some of his biggest matches, which included one when wrestling's greatest marquee event came to Toronto.
"I did a lot of them up there! I've just been fortunate to be in the ring with great guys. As far as Toronto goes, probably the best match I ever had there was with the Undertaker at WrestleMania. Even though I was older, he got me through it. Otherwise, (Ricky) Steamboat, Sting, Dusty (Rhodes), Bruiser Brody, Shawn Michaels, Triple H, I've wrestled everybody, so it's hard to say. I probably had had my best matches with Ricky Steamboat. He was easy to work with and in good shape. He kept the pace, and that's what made the difference. We didn't have to rest, we just kept going."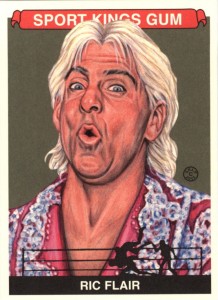 Since Flair is appearing at shows, he now gets a chance to pick up pieces of sports memorabilia.
"I didn't collect it when I was young, I collect it now as an adult. When I was growing up, sports memorabilia wasn't as popular as it is now. I collected baseball cards, but before you were born. Mickey Mantle, Willie Mays, Roberto Clemente. Everybody collected baseball cards, that was the deal. It was a competition to see who had who."
But does he hang on to his own items?
"I've sold a lot of it and I've given a lot of it to my kids. All of my stuff was pretty outstanding. The robes are pretty cool. I don't wrap myself up much in my own career. My grandkids and my fiancee's son, I get them stuff from guys like Reggie Jackson and Dale Murphy. Whoever they like, I bring them stuff. My grandson, he loves Adrian Peterson. I have access to stuff from all these guys, they're all my friends, so it's nice."
He also spoke about how much he enjoys appearing in trading card releases today.
"I think they're great. Gosh, it's a hobby that I never really followed. I don't think I've ever really had time to give my all to something like that, but it's interesting. The trading card thing is kind of like fantasy football. People take it that seriously. It's great to see it and fun to watch people enjoy it."
For the complete interview with Ric Flair with reflections on some of the biggest moments of his career, please be sure to pick up the December 2016 issue of Beckett Sports Card Monthly that will be available in stores and at the Fall 2016 Sportcard & Memorabilia Expo in November.
Stephen Laroche is the editor of Beckett Hockey, Beckett Basketball, and Beckett Sports Card Monthly magazines. Have a comment, question or idea? Send an e-mail to him at slaroche@beckett.com or follow him on Twitter @Stephen_Laroche.