WNBA all-time blocks leader Margo Dydek dies at 37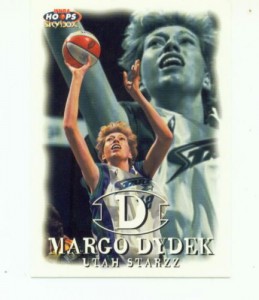 By Susan Lulgjuraj | Contributing Editor
Former WNBA player Margo Dydek died on Friday after being placed in a medically induced coma after suffering a heart attack last week. She was 37.
Dydek led the league in blocks nine times. The 7-foot-2 center, who was once the tallest player in WNBA history, remains the league's all-time leader in blocks with 877.
This is a sad story coming out of Australia, where she lived. Dydek was pregnant with her third child.
Dydek, the No. 1 overall pick by the Utah Starzz in the 1998 WNBA Draft, also played for San Antonio, Connecticut and Los Angeles.
The Poland-born player appeared on 35 cards during her WNBA career, including three memorabilia cards and just one autograph. Her one autographed card came in the 2007 WNBA set made by Rittenhouse Archives.
Her loss was tough on many of the WNBA fans and her former teammates.
"She was a tremendous person, role model and athlete who touched the lives of her many fans and made an indelible mark on women's basketball around the world," WNBA President Laurel Richie told the Associated Press.
Susan Lulgjuraj is a contributing editor for Beckett Media. You can email Susan here. Follow her on Twitter here.