Without question, Cardinals rookie Michael Wacha is the one World Series player to watch on cards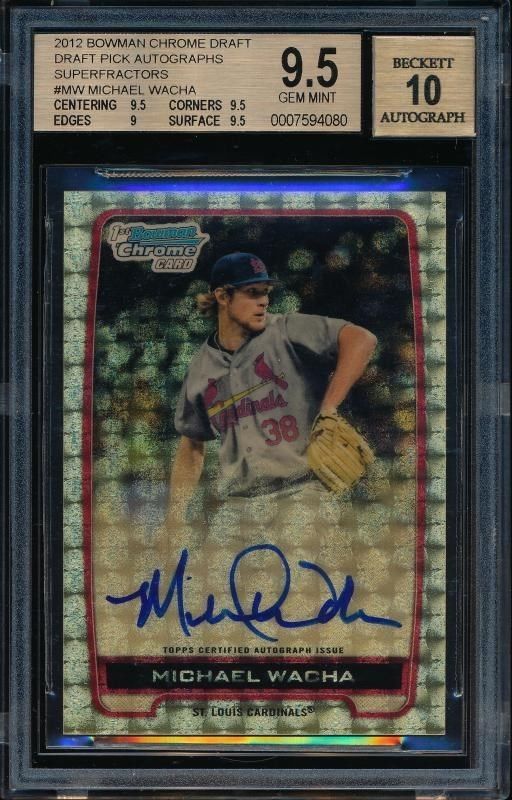 By Chris Olds | Beckett Baseball Editor | Commentary & Opinion
Sorry Red Sox fans, when it comes to cardboard there's only one player to watch in this year's World Series — at least for now — and it's Cardinals rookie Michael Wacha.
Sure, both St. Louis and Boston have established veterans and promising younger players on both rosters, but the recent headline-grabbing performances of the right-handed rookie from Texarkana, Texas, are the ones that already have generated cash — and still could — for collectors.
On Sept. 24, Wacha arrived when he lost a no-hitter with two out in the ninth. At that time, he appeared on 260 different baseball cards in the Beckett.com database. (Click here for an Online Price Guide or Wacha checklist.) At that time, his cards typically sold for $1,560.25 or less (excluding rarities).
Of course, among those rarities is his 2012 Bowman Chrome Draft Draft Pick Autographs Superfractor, a 1/1 card that has been examined by Beckett Grading Services and is currently listed on eBay for much, much more than that. That auction's asking price shows the volatility of the market for rarer cards — and given his performances of late that price tag might still be a bargain.
Now, 21 dominating postseason innings and an NLCS MVP Award later, while on the cusp of a start in Game 2 of the World Series? He checks in at $2,197.25 for a total of 320 cards. While that does include new inserts and parallel cards, his most-valuable cards' total — certified autographs — did not change. He still only appears on 119 different cards signed directly for manufacturers.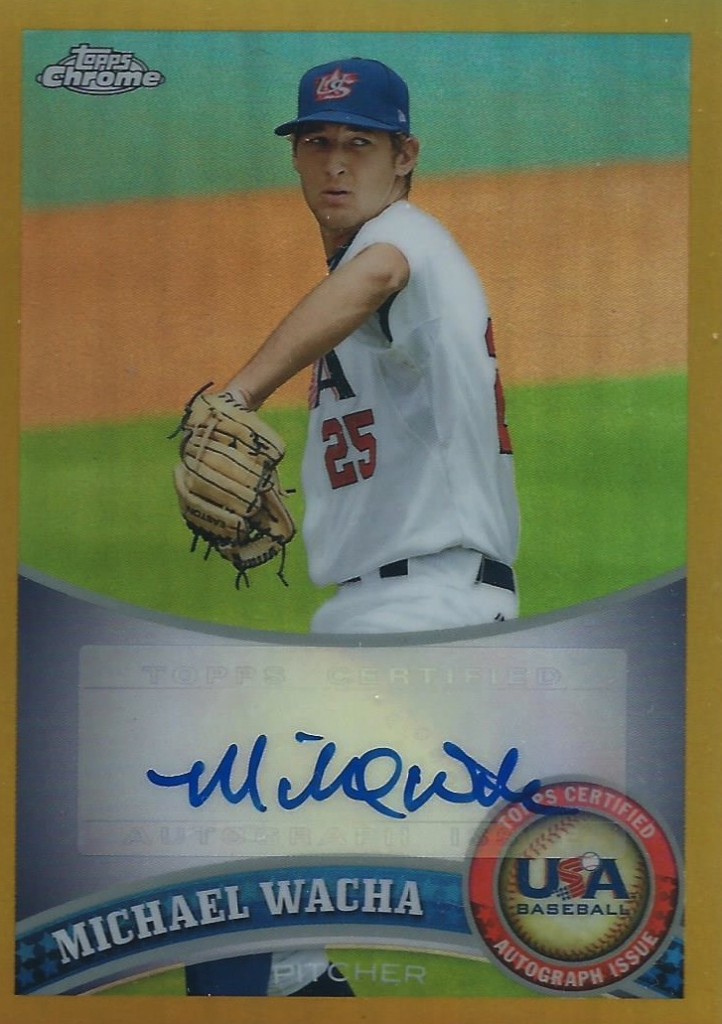 His most-valuable card so far, excluding rarities, is his 2012 Bowman Chrome Draft Draft Pick Autographs Gold Refractor, which is signed, limited to 50 copies and typically sells for $300 or less. At the time of his near no-no, that was typically a $250 card. His 2011 Topps Chrome USA Baseball Autographs Gold Refractor, also signed and limited to 50, is typically $150 or less. That card has held steady since September, though Beckett Media baseball analyst Brian Fleischer forecasts some upward movement in many of Wacha's cards soon.
Since Sept. 24, Wacha has had four new Rookie Cards arrive — he has just five total — with his most-expensive RC being his 2013 Topps Chrome card that checks in at just $2.50. His Bowman Chrome typically sells for $2 or less, while his Panini Prizm — his only as of last month — is a $1.50 card.
With his earliest autographs from USA Baseball — and ink available from Topps, Leaf Trading Cards and Panini America, Wacha has a decent amount of ink for collectors to choose from compared to some recent rookies. (Click here to view eBay auctions.) Typically, his autographed cards can be found for $50 or less, save for the rarer versions.
It should go without saying — through Red Sox fans might disagree — that the rookie who didn't even start the season in the majors (and his Twitter profile still says he's an "RHP in the St. Louis Cardinals organization") is the one to watch after he helped dispatch the hobby's other headliner this year in the NLCS, Yasiel Puig and the Los Angeles Dodgers.
Other reasons why beyond his dominance on the mound? At age 22 he's the youngest NLCS MVP since Steve Avery in 1991 and the first rookie winner since 1997, according to MLB — and we love young pitchers on cardboard even if they don't last. He's also been absolutely dominating when it has mattered most. Facing likely NL Cy Young winner Clayton Kershaw twice he held the Dodgers scoreless for more than 13 innings, allowing just seven hits. Simply put, he stole Kershaw's hobby thunder. And how about some trivia? His next start in Game 2 will be just his 19th as a major-leaguer. Again, collectors love phenoms, and this point, his youth, will likely be driven home ad nauseam during the game where many more people beyond the typical collectors will be watching.
Oh, and another thing? Wacha is on a popular and successful team that's been a contender regularly but hasn't necessarily had its share of cardboard superstars in the last decade except for, you know, that Pujols guy. And you likely know by now that it was Pujols' exit that gave St. Louis the draft pick used to take Wacha. Added trivia there — but perhaps a sign that Wacha will become the next poster boy for Cardinals cardboard?
We'll see how it all shakes out soon with Game 1 tonight and Game 2 tomorrow. I know who I'll be watching. Tell us who you'll watch — and who's a cardboard winner in this Series — in the comments below.
Chris Olds is the editor of Beckett Baseball and Beckett Sports Card Monthly magazines. Have a comment, question or idea? Send an email to him at colds@beckett.com. Follow him on Twitter by clicking here.