Winless No More – Beckett Pricing Insider
It was looking bleak for the Cleveland Browns, yet again, when they were down 14-0 against the Jets. But then Baker Mayfield got a chance to shine following Tyrod Taylor's unfortunate injury. The atmosphere in the stadium immediately changed and the comeback was on.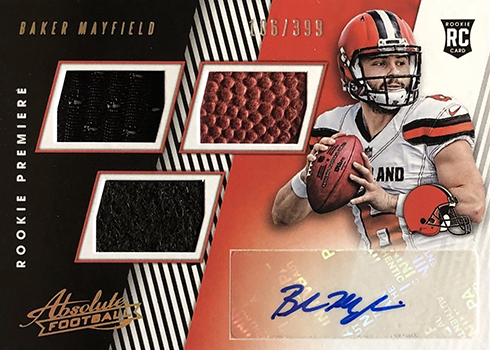 Mayfield set up scoring drives that saw running back Carlos Hyde run a pair of one-yard touchdowns. Throw in a two-point conversion and two field goals and you have a 21-14 win for the Browns. And free beer for the city of Cleveland.
This was also the first matchup between Sam Darnold and Baker Mayfield. Both quarterbacks are recent mainstays on the Beckett Hot List and their cards sell for some of the most of this year's rookie crop. Mayfield already has about 1,200 cards in the Beckett database.
Prior to the Browns' win, Mayfield's card values had been softening a bit lately compared to where they started out. That was probably, in part, due to him not playing. Now that has changed, and Mayfield will have an opportunity to get collectors excited about his cards again.
The only 2018 rookies that have been valued higher than Mayfield thus far are Saquon Barkley and Sam Darnold. But with a starting role and a couple of more wins, Mayfield he has a real chance to surpass the values of both of them.