Win a 2015 Marvel Avengers: Age of Ultron box from Beckett Radio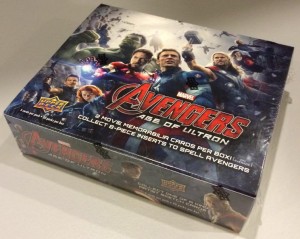 By Derek Ficken | Beckett Radio Host
Beckett Radio is pleased to announce it is giving away a box of 2015 Upper Deck Marvel Avengers: Age of Ultron on the latest episode. Be sure to listen in to see how you can win this box from them. Send your answers in to radio@beckett.com or on their Twitter page @beckettradio.
Join hosts Derek Ficken and Eric Norton as they talk about updates to the National Sports Collectors Convention with a $2,500 per slot vintage break, news with a five-card VIP set and much more. They also bring on gaming and non-sports analyst Matt Bible to talk about the upcoming San Diego Comic-Con and some really cool and unique exclusives to the Funko Pop! brand being showcased throughout the Con.
Check out Beckett Radio every Thursday at 4 p.m. Central for new episodes and be sure to follow it on Twitter (@beckettradio) and check out more at www.beckett.com/radio. 
https://soundcloud.com/beckett-radio/626-nscc-vintage-memorabilia-break-san-diego-comic-con-news-funko-pop-vinyls-and-more