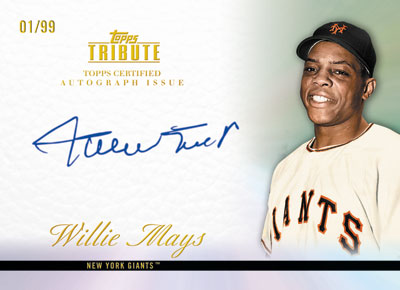 By Susan Lulgjuraj | Contributing Editor
Legendary Hall of Famer Willie Mays will sign autographs for Topps products next year.
This marks the first time since 2004 that the Say Hey Kid will sign for Topps, according to Beckett's database.
Mays signed a multi-year deal with Topps, the company announced Wednesday. Mays will first appear in 2012 Topps Baseball Series 1, which hits the market in February.
It won't end there as Mays is set to sign for Topps Tribute, Gypsy Queen and other products. In addition, Topps will release relic cards of the iconic player.
Mays' first autograph card was 1983 ASA Willie Mays 12, which books between $40-$80.
His first Topps autograph is from 1997 when the company created a special series in the name of Willie Mays. He signed about 65 copies of 19 different cards that featured him on Topps cards from 1951 (his Rookie Card year) to 1973.