Will This 1952 Topps Mickey Mantle Be the First $10 Million Baseball Card?
A 1952 Topps Mickey Mantle card that was once sold by the late Alan "Mr. Mint" Rosen in 1991 to a then-anonymous buyer for $50,000 is expected to bring more than that when the same card is auctioned by Heritage in late August.
Far more.
The card, graded 9.5 Mint+ by SGC, was called "the finest known example" by Rosen after selling the card to Tony Giordano, the anonymous buyer who just recently stepped forward to reveal he's owned the card ever since buying it from Rosen.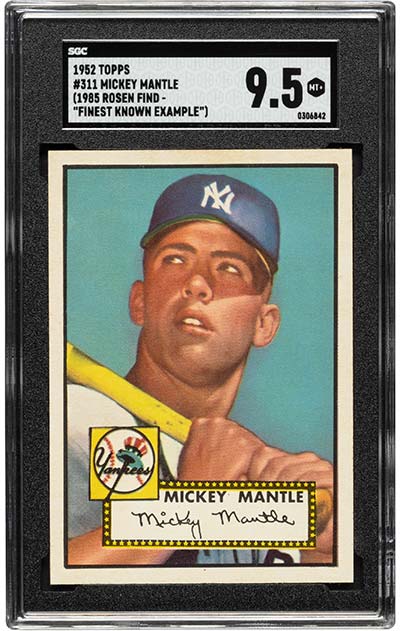 "This card is arguably the finest-condition example of the most iconic post-war card in the world," says Chris Ivy, Heritage's Director of Sports Auctions. "That grade, plus the fact it has documented provenance from the most storied find in hobby history, puts this card in a category of its own. The card more than lives up to Rosen's claim when viewed in person."
Ivy says he expects the Mantle to sell for more than $10 million (bidding has already topped $5 million), as he says this is a finer example than the PSA Mint 9 for which actor-entrepreneur Rob Gough paid a then-record-setting $5.2 million last year. Should the card perform as Heritage believes it will, it would break the previous world record for a sports card realized last year when a T206 Honus Wagner graded SGC Very Good 3 sold for $6.6 million at auction.
"It bears the finest qualities any 1952 Topps can possess: perfect centering, registration and four sharp corners," Ivy says of the card. "If you were to put this card in a lineup with the other known examples graded 9 or 10 and covered the labels, this would stand out as a clearly superior specimen. That this Mantle remained in this condition for 70 years is a true miracle."