Will Minshew Mania Continue? – Beckett Pricing Insider
This edition of the Beckett Pricing Insider is brought to you by GTS Distribution. Watch Go GTS Live – The Hobby's Web Show, every Thursday at 9 PM EST.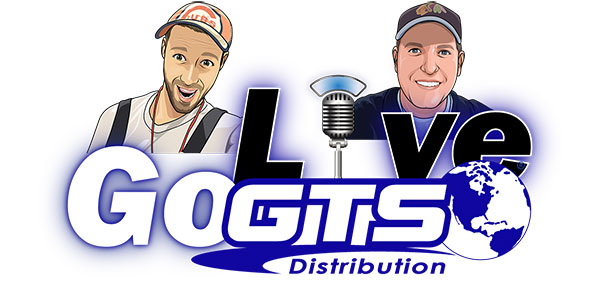 Last season, when Nick Foles went down with an injury, rookie Gardner Minshew took over. That's when the collecting world went crazy. There were tons of memes about how awesome he is. He even one-upped Chuck Norris in some. Minshew card values quickly shot through the roof, which was propelled even further as he didn't have a lot of autographs at that point. He went 6-8 as a starter but he threw for over 3,000 yards and 21 touchdowns. His values dropped a little in the offseason but now Minshew will be the starter when the season begins.
Here are some notable Minshew rarities recently spotted on the secondary market.
2019 Panini Flawless Rookie Gems Signatures Diamond Gardner Minshew 1/1
This card came from the most expensive product of they year. Getting an on-card autograph is always something collectors want but getting a piece of diamond on it makes it really cool. If you have close to two grand you could make this card yours.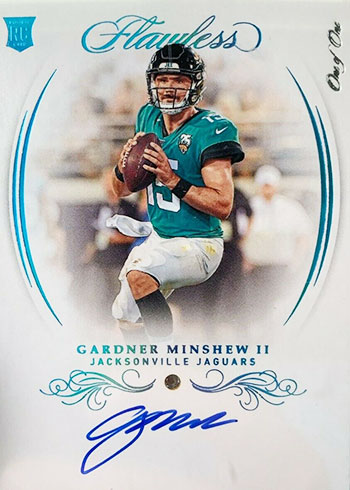 2019 Panini National Treasures Crossover Rookie Patch Autographs Laundry Tag Garner Minshew /2
Only two of these cards exist. The laundry tag patch has become one of the favorites among collectors. There's also the fact that it comes from National Treasures, which raises the prestige.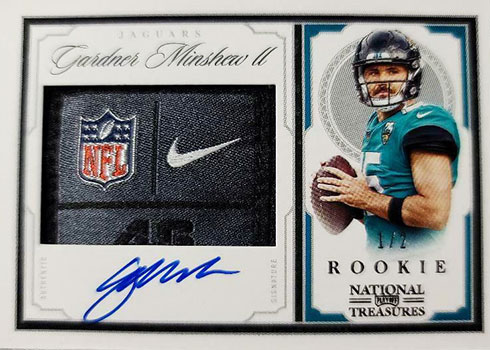 2019 Select Prime Selections Material Signatures Prizm Gold Jersey Number Gardner Minshew /10
The Jaguars have some of the most interesting colors in the NFL and many collectors love getting patches of them. This one has four colors. Being the Gold parallel with only ten copies, it makes it even more appealing.