Will Ferrell autographed patch card in 2015 Topps Dynasty Baseball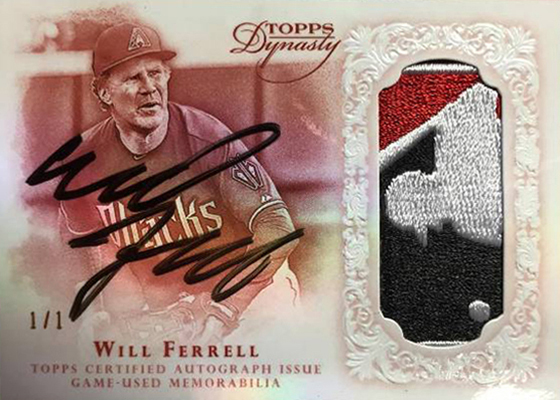 By Ryan Cracknell | Hobby Editor
First it was basic inserts and some tough autographs in 2015 Topps Archives Baseball. Then there were the rare insert variations. Now it's Will Ferrell autographed patch cards in 2015 Topps Dynasty Baseball.
Topps revealed a lone autographed logoman patch through Instagram. In doing so, they've added a new layer to the product, even if it's only a very limited number of cards.
The card pictures Ferrell from his short stint with the Arizona Diamondbacks. Part documentary, part charitable fundraiser, it came from a say in Spring Training where the actor played for ten teams in a single day.
Topps has yet to announce if this is the only Will Ferrell card in the product if he will have others.
Like a lot of the pop culture inclusions, it's tough to tell how popular autographed memorabilia cards will be. After several early 2015 Topps Archives Will Ferrell autographs sold for up to $2,000, more recent examples have settled closer to $800 to $1,000. Ferrell signed ten cards for each of the ten teams he played for.
But those were just autographs. Now memorabilia has been added to the mix.
On a per-card basis, 2015 Topps Dynasty Baseball is the company's most expensive baseball product with single-card boxes topping $300 on pre-order. Every card in the product is numbered to 10 or less and comes with an on-card autograph and either a patch or two memorabilia swatches. The only exceptions are a limited number of cut signatures. The product was recently pushed back to a release some time in December.
During the Spring Training event, the Anchorman star was filming Ferrell Takes the Field, an HBO special. Much of his gear was auctioned off to raise money for cancer research.