Will Danica Patrick's cards make a historic move?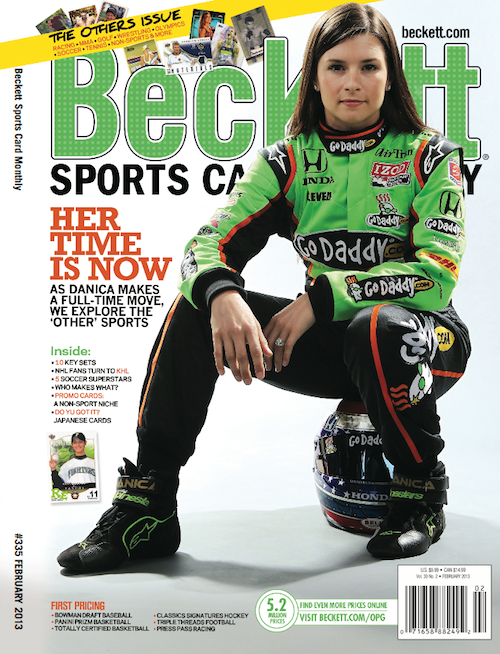 By Chris Olds | Beckett Sports Card Monthly Editor
Danica Patrick wrote herself into the record books on Sunday when she became the first woman to win the pole for NASCAR's premiere race, the Daytona 500.
The 30-year-old is embarking on her first season as a full-time driver in the highest level of stock-car racing this season after a couple seasons as a part-timer and a big-time player on the trading card circuit.
And that raises the question … could her cardboard be making a move next? Her potential wasn't lost on Press Pass, the exclusive trading card manufacturer for NASCAR, which has included her in products — and on the packaging of boxes — since 2010 when she was merely a part-time driver.
"Danica consistently sells in the top five among current drivers," said Press Pass VP of Brand Management Tom Farrell in the February issue of Beckett Sports Card Monthly. "Dale Earnhardt Sr. likely still reigns supreme, and it's tough to compare to The King, Richard Petty, however, her fan base is enormous and they enthusiastically chase her cards."
Patrick appears on more than 840 different cards and diecasts made through the years with a total value of $31,331.25 not including those pieces that are too rare to track a value for. (Click here for a full checklist and Online Price Guide.)
Her trading card debut actually came in the landmark 2006 Topps Allen & Ginter baseball card set, a product that featured her first certified autograph card — it typically sells for $600 or less. Her racing card debut came in the 2010 Rittenhouse IRL product, which also had an autograph card, before her NASCAR debut came in a few 2010 Press Pass products. (How are her items selling on eBay? Click here.)
"Danica's marketability is unquestionable, and not many athletes are consistently featured in Super Bowl ads," said Press Pass NASCAR Product Manager Jesse Leadbetter in the issue of BSCM. "We certainly saw this when we first put her on packaging with 2010 Element."
The Daytona 500 is set for next Sunday, but you can look for more on Patrick's cardboard in Beckett Sports Card Monthly on newsstands now.
Chris Olds is the editor of Beckett Sports Card Monthly magazine. Have a comment, question or idea? Send an email to him at colds@beckett.com. Follow him on Twitter by clicking here.