Will Connor McDavid's Young Guns card be impacted by injury?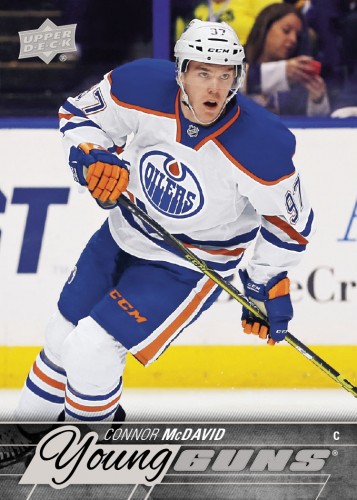 By Stephen Laroche | Beckett Hockey Editor | Commentary
On Wednesday night, Edmonton Oilers rookie Connor McDavid went down with a broken left clavicle during his team's victory over the Philadelphia Flyers. It was a major blow to the young phenom and his club, but there is little doubt that it could not have come at a worse time for both Upper Deck and card dealers alike.
Pegged as a generational talent and the centerpiece of the Young Guns subset in 2015-16 Upper Deck Series One Hockey, the buzz on McDavid's first NHL and NHLPA-licensed trading card had been growing to a feverish pitch in the weeks and months leading up to Thursday's release date. Sales for this product are expected to be incredibly strong as the first overall selection in the 2015 NHL Entry Draft had a fantastic start to his professional career and was named the league's Rookie of the Month for October.
Several dealers were pre-selling the Young Guns card online at unprecedented prices and many buyers may be wondering if they may have overpaid for the card. The news is not all bad, though, as the Oilers have reported that McDavid's surgery was successful. However, there is no specific timeline for his return and it is estimated to be in months rather than weeks.
What could all of this mean for the hobby? Read on after the jump to find out.
Here's the reality – the injury, while impacting the hobby at all levels, looks to be just a short-term issue before he returns to action. The fact remains that McDavid is a remarkable talent who will be a star player in the NHL and the Oilers likely will not rush him back to the ice. Even if he does not end up winning the Calder Trophy, his future remains bright.
For Upper Deck and card dealers, this injury probably will not have much of an impact in the short term when it comes to box and case sales. Traditionally, demand for Upper Deck's flagship brand are beyond strong – especially with the presence of a strong rookie or two. People have been collecting this set for 25 years and there is no denying that it is a hobby institution. The hype from hobby and mainstream media have practically ensured that both dedicated and lapsed collectors will be seeking out packs and boxes in the hunt for the McDavid Young Guns card. Some dealers may not see box and cases move at the rapid rate they were hoping for, but it will not stay on the shelves for long.
While it is impossible to truly predict a card's value before it is even officially released, it will be interesting to see what kind of market is established for the McDavid Young Guns card in the coming days. Casual and serious investors will be looking for bargains in light of the injury, but some dealers may hold strong on the price they want to get for it. The Fall 2015 Sportcard & Memorabilia Expo this weekend will essentially be the litmus test for the card and once the retail version of 2015-16 Upper Deck Series One Hockey hits the mass market, even more collectors will be chasing it.
Where the injury can become problematic for Upper Deck is if it lasts for an extensive amount of time. The company has planned some releases, including boxed sets, around him and if the hobby becomes too impatient waiting for McDavid's return, dealers may soften their prices on the McDavid Young Guns card and lowered demand for some subsequent products. Casual investors and collectors may also look to dump their cards at a fraction of their value. The key here for everyone is to be patient as a strong return will only help maintain or strengthen the card's secondary market value and savvy hobbyists are certainly not going to turn down any potential bargain prices that may pop up.
Luckily, there are a few players who stand to become hobby stars in the meantime as more attention turns to them. Early success from players such as Max Domi, Jack Eichel, Nikolaj Ehlers, Dylan Larkin, and Artemi Panarin certainly creates demand for their cards. All but Eichel see their Young Guns cards appear in 2015-16 Upper Deck Series One Hockey, but the Buffalo Sabres pick does have a UD Canvas card to collect in addition to some new offerings from Leaf Trading Cards that arrive this weekend. Additionally, if Leon Draisaitl gets some more opportunities to shine, the demand for his cards could rise dramatically.
The bottom line here is to not panic and simply enjoy pulling a card of a tremendous prospect. If anything, now is the time to be buying this card in order to get in on the ground floor as some dealers may not have major expectations for what they can get for it. This injury coming so close to a major release is not an ideal situation, but those that break packs and choose to hang on to this Young Guns card will surely not be disappointed in the long run.
Stephen Laroche is the editor of Beckett Hockey, Beckett Basketball, and Beckett Sports Card Monthly magazines. Have a comment, question or idea? Send an e-mail to him at slaroche@beckett.com or follow him on Twitter @Stephen_Laroche.