Will Alex Smith Make a Comeback? – Beckett Pricing Insider
This edition of the Beckett Pricing Insider is brought to you by GTS Distribution. Watch Go GTS Live – The Hobby's Web Show, every Thursday at 9 PM EST.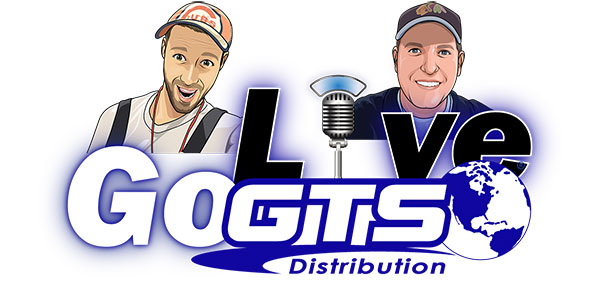 When Alex Smith broke his leg in 2018, it was one of the most gruesome injuries ever. It was a crazy coincidence that it happened exactly 33 years to the date from when Joe Theismann suffered an injury to the same leg. There has been plenty of speculation if Smith would ever play again. He is wanting to prove to everyone that he will. Smith is not quite ready for on-field activities yet but he is hopeful.
For collectors, Alex Smith could look like a sound buy. His cards have definitely dropped in value since his injury, but they are still worth more than most players from his rookie class. When he originally signed with Washington and started playing for them his card values took off. If he can win the starting job again and play successfully his values should rebound. He's not there yet, but it's definitely one of the stories to watch in the months ahead.
Here are some interesting Alex Smith cards and what they've been doing recently.
2005 Bowman Rookie Autographs #114 Alex Smith
Bowman used to be a must-have for rookie collectors and is still highly sought-after. This cards value has dropped down a little bit, with a high book value of $30.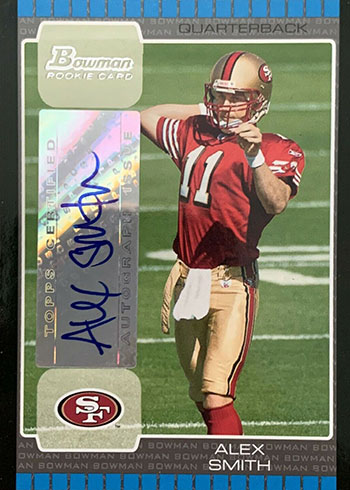 2005 Playoff Contenders #106 Alex Smith AU RC (401 copies)
This card was once valued as high as $200 but can now be purchased for under $50. Contenders is always one of the first cards to gain their value back so this is one to watch.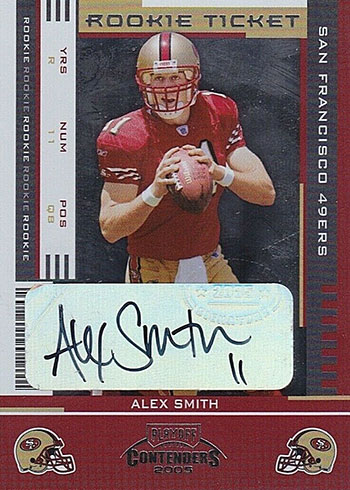 2012 Panini Prizm Autographs Prizms Finite #67 Alex Smith 1/1
Prizm has seen its values take off during the pandemic but this card sold for only $300 recently. It's a one-of-a-kind autograph from the first Prizm football set.