Will 2018 Be Jordan Matthews' Year? – Beckett Pricing Insider
Jordan Matthews has had more quarterbacks throwing to him than he has years in the league. He was a rookie in 2014 and had both Sam Bradford and Nick Foles throwing to him. His second year he saw Sam Bradford followed by Carson Wentz in 2016. In 2017, Matthews was traded to the Bills where Tyrod Taylor was his passer. It was Matthews' worst season as a pro.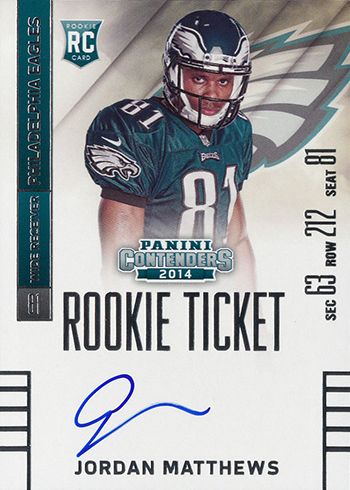 After the season ended Jordan Matthews became a free agent and got some of the best news in his career. He is now going to be catching passes from one of the greatest quarterbacks in the game, Tom Brady. It also doesn't hurt that he will have Bill Belichick as a coach. He signed a one-year contract with the New England Patriots and they kind of have a reputation of getting the most out of wide receivers.
Jordan Matthews' cards have never set the collecting world on fire and his Rookies have actually dropped to unlisted star status.
He has lots of cards as well. His rookie year alone has 1,669 cards. We're now over 3,200 total. A collector looking for a good deal on autographs or jersey autographs should look at Matthews' cards. Many can be found for only a few dollars.
This year could see a rise in value though if he becomes a favorite target of Tom Brady. Just being on the Patriots and having a big game will make people notice him a lot more. The result could be a rebound for some of his cards on the secondary market.
Update: Matthews was just cut by the Patriots after suffering a hamstring injury. So, it does not appear that this will be his year.