Wil Wheaton auctions Star Trek card for charity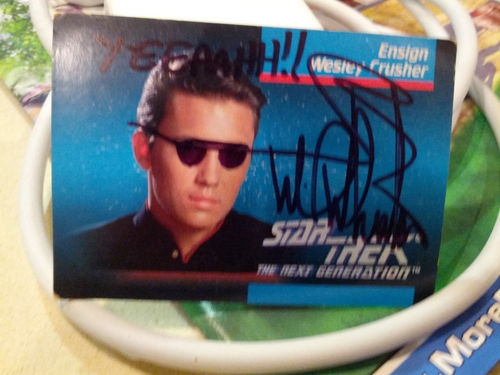 By Susan Lulgjuraj | Beckett Sports Card Monthly Editor
Actor Wil Wheaton dug through boxes in his garage when he discovered an old signed Star Trek: The New Generation Card.
Wheaton live tweeted his findings, including the card, which many noticed there was something a bit odd.
Wheaton messed up the signature by writing through his face.
So how did he fix it?
He drew sunglasses on.
"The more observant among you are probably thinking something like, "Hey, Wil Wheaton, what gives, man? Wesley never wore the Sunglasses of Justice on Star Trek! In fact, I own or have seen that trading card, and I know for a fact that he isn't wearing sunglasses at all! YOU'RE A PHONY WIL WHEATON! A BIG FAT PHONY!," Wheaton wrote on his blog.
"Okay, first of all, calm down. It's all going to make sense in a moment. Please read on for the description I wrote to go with this trading card on eBay."
Here is the link to the auction
. Read the description. It's worth the time.
Meanwhile, Wheaton is giving the proceeds from the auction to the Pasadena Humane Society & SPCA.
By the way, the auction has already passed $600.
Susan Lulgjuraj is an editor of Beckett Sports Card Monthly. You can email her here with questions, comments or ideas. Follow her on Twitter here.