Why Tim Hortons hockey cards are a big deal
When you click on links to various merchants on this site, like eBay, and make a purchase, this can result in this site earning a commission.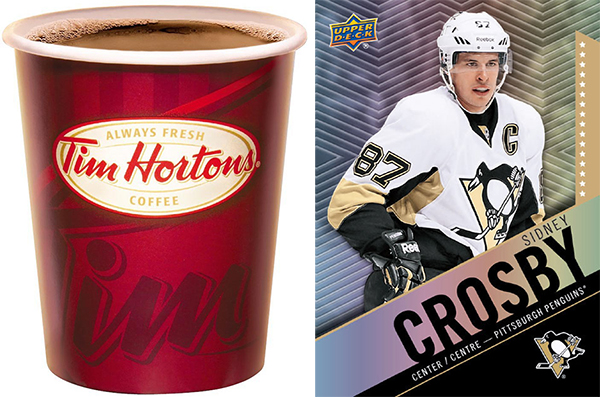 By Ryan Cracknell | Hobby Editor | Commentary
We often lament the loss of bubble gum and sports cards. But what about cereal, Twinkees, hamburgers and fries?
Once upon a time, collectors were enticed to indulge in foods we might not normally eat or hit the drive thru a couple of times a week all in the name of sports cards. For decades, premiums and food issues were a regular thing, even if they didn't stick with a particular brand for long.
But over the last 15 to 20 years, these sorts of sets have largely disappeared. You see the occasional blip on the radar but few that are major.
Until now.
Tim Hortons hockey cards are a big deal — even if you don't live in Canada. Even if you don't collect hockey cards.
Here's why.
Exposure
The most obvious reason why the 2015-16 Upper Deck Tim Hortons Hockey set is so important is exposure. Every day, Canadian Tim Hortons restaurants are packed. The drive thrus are lined up most hours of the day and night. And for a few weeks, those people are going to see signs, commercials and more dedicated to hockey cards.
These people don't have to search out cards. They're right in front of them.
Visits to hobby shops are normally a deliberate choice planned out in advance. If we're lucky, we stumble across one in our travels.
Retail outlets increasingly have their trading cards pushed off to a side or corner. Even when these are in a prominent spot, they can be missed in a rush to get out of the store.
If something's out of sight, it's often out of mind. Now here's a window where the exposure is going to be massive. Some are likely to buy their first packs of cards in years. Others are going to follow-up a pack purchase with a search for a local shop or online dealer to finish their set.
And at a dollar a pack (or $1.99 without the qualifying purchase), the price is likely low enough to entice parents and family members to grab some for their kids. That has the potential to plant the seed for a lifelong collector.
Big Mac Flashbacks
Many are going to connect the Tim Hortons-Upper Deck promotion to the similar McDonald's sets from the past. At their biggest in the early to mid 1990s, these brought hockey cards to the Canadian masses. Upper Deck started things out, although Pinnacle and Pacific also took the reigns at certain points.
McDonald's hockey card sets saw many gorge on French Fries for a few weeks in their quests for sets, holograms and other inserts. The promotion became a tradition for both serious and casual collectors. Some restaurants went to even greater lengths, organizing trade nights and helping people knock needs off their lists.
It's not McDonald's this time around, but there will be a nostalgic connection for some. And with the nostalgia, some could find their way reentering the hobby after an extended layoff.
Possible Test for Other Sports and Markets
Even though this particular promotion is limited to Canadian restaurants, other manufacturers and leagues would be wise to see how it does. If it catches on, one would think that there would be increased odds of similar food-issue sets popping up in the future. Success here means success for both Upper Deck and Tim Hortons.
Other restaurants may want to get in on the action for baseball, football and basketball. Trading cards for movies and TV shows have also been done before and could again.
2015-16 Upper Deck Tim Hortons Hockey is about more than just double-doubles and the hunt for Sidney Crosby. It has the potential to be a benchmark release in how the modern hobby can potentially reach a bigger audience. And with that bigger audience, we can better gauge at what level people still get excited about sports cards.