Why The '99 MLB All-Star Game Will Always And Forever Be My Favorite
When you click on links to various merchants on this site, like eBay, and make a purchase, this can result in this site earning a commission.

I Was There
I think attendance is imperative to claiming that a specific sporting event is your favorite of all time. In this case, the '99 Major League Baseball All-Star Game is the only MLB All-Star Game that I've been to… But so what? As proof, that's me in that photo up there on the right in that gigantic red plaid shirt. I am confident that if I went to every single All-Star Game for the last twenty-five years the '99 game couldn't be topped. Ever. Here are my reasons why:
It Was at Fenway
Fenway is the best place on earth that doesn't have an ocean view. Period. It's home to my favorite team. It's one of my favorite places. Enjoying the game was going to be a lock.
I Was There with My Brother and My Dad
Having the right company at a big game is key. In this case, being with my dad, the person responsible for my Red Sox and overall sports fandom, and my brother, the person I've shared it the most with, was perfect.
We Had A Sweet Corporate Hook-Up
In 1999 my dad was an executive at a Fortune 500 company and that was how we got tickets not only to the Home Run Derby and All-Star Game, but was also our super special backstage passes to almost everything. My brother and I were basically the two kids in Jurassic World, cruising around Fenway, cutting lines, checking out whatever we wanted wherever we wanted.
Get a photo in front of Ken Griffey Jr.'s All-Star locker? Check.
Stand inside Fenway's famous scoreboard? Done.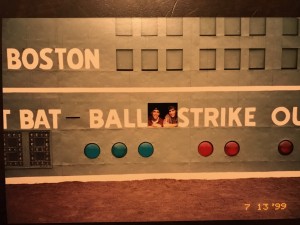 Watch batting practice with Bob Gibson and Keith Olbermann? Sure.
Sit in Nomar's locker? Yeah, why not?
Whatever we could think of, we did it. And it was amazing.
Ted Williams Was There Too
That's right. Teddy Ballgame was all over Boston that weekend in what was his most famous and celebrated final appearance. He wasn't in great health, but he was everywhere. Boston's most revered figure at Boston's most revered place. How can you top that???*
*I know we've won 3 World Series', an NBA Championship, a Stanley Cup and five Super Bowls since then, so Papi and Brady and Pierce and some other guys can jump into the 'favorite Boston athlete' discussion… But back then, despite no championships, Teddy was at the top of any list on an almost mythical level. Yeah Larry Bird and Bill Russell and Bobby Orr and others were up there… But Ted Williams seemed to hover slightly above everyone else. Anyway, he was there. And it was great.
Also, Every Other Great Past and Present MLB Star was There to Celebrate the All-Century Team
When I say everyone, I mean EVERYONE. Wherever you went you saw baseball royalty. Mays, Aaron, Musial… Nolan Ryan, Johnny Bench, Ozzie Smith… George Brett, Rickey Henderson, Frank Robinson…
Everywhere you looked at the game or around town, another Hall of Famer or future Hall of Famer was hanging out.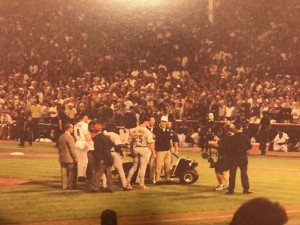 For a couple of kids who spent their formative years memorizing Beckett's baseball card guides, it was like Night at the Museum, where all of my brother and mine's favorite cards came to life. I'll never forget it.
Pedro
Personally, Pedro is my favorite Red Sox player of all time. Was then. Is now. Every start was an event for me in those days. Was he gonna strike out 10? 15? Maybe 20? How many guys was he gonna make swing and miss for a third strike? Is he gonna throw a perfect game? Is he gonna toss Don Zimmer to the ground by his ears?
I honestly believed anything was possible when he pitched.
And then… At the biggest All-Star Game in front of the biggest names in the game, he struck out the biggest bats in baseball… And got them out in order.
He struck out Barry Larkin, Larry Walker, Sammy Sosa in the first. Then he struck out Mark McGwire. Then a ground out by Matt Williams. Then he struck out Jeff Bagwell. Six up, six down in an All-Star Game. Five Ks. It was insane.
He struck out a set of guys that combined for about 2,000 home runs. And certain ones were at the height of their (alleged) juicing powers.
We stood for every Pedro pitch. And he delivered.
I'd be lying if I said I remembered much of the rest of the game. I was too drained and the buildup of the All-Century team before the game and Pedro's performance made the excitement impossible to maintain…
But we got our moments. We got our memories. And that's why, for me, the '99 All-Star Game at Fenway Park will always be the best.
What is your favorite All-Star Game memory? Tell us in the comments below or on Facebook.