Why Sports Card Supplies Are Currently in Short Supply
First it was hand sanitizer that vanished from store shelves. Then toilet paper. Lysol wipes. Soup and cereal. Hair dye.
As the potential severity of the COVID-19 pandemic became apparent to the public, panicked shoppers swarmed grocery stores and began to hoard critical items. Shortages and price gouging followed.
This sort of behavior isn't hard to understand. Some people start stocking up because of an uncertain future. Others see that behavior and take the cue that they'd better do the same. Next thing you know, a 12-pack of Charmin is selling for $50 online.
It's a predictable human response to an unpredictable scenario.
But the one development no one anticipated was the humble toploader becoming the toilet paper of the hobby.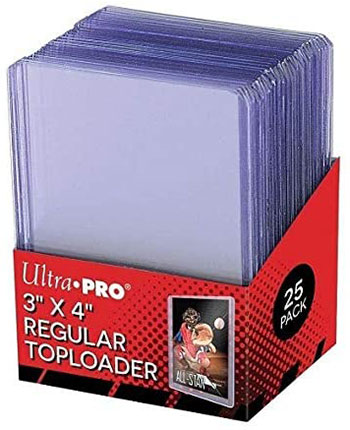 The widely used protective tools, along with most other hobby supplies, are manufactured in China where production shutdowns and shipping delays have virtually strangled the source, leading some dealers to sell out while others struggle to keep them in stock.
Oliver Lea of Canada's Universal Distribution said the shortage resulted from "a perfect storm."
"It amounted to an unfortunate combination of COVID-19, Chinese New Year and the Shelter-in-Place/Emergency Legislation orders enacted by various state administrations," Lea said. "It's created a ripple effect across the entire supply chain.
"Manufacturers are doing the best they can [to meet demand], but they have to adhere to state guidelines and ensure minimal staff on site to maintain physical distancing."
Lea pointed out a similar shortage that occurred a couple of years ago when the port workers in Los Angeles went on strike, forcing the container ships to sit offshore awaiting a resolution before goods could be unloaded and forwarded.
Hobby supplies continue to be manufactured, he said, but it takes more people then they have, or are allowed to have, to meet demand.
Fortunately, any shortage is expected to be short-lived. And in the meantime, there are options for collectors looking to safely preserve those sweet O-Pee-Chee Platinum singles they're picking up online. "In the case of toploaders, when base items are temporarily unavailable, retailers have adapted to other choices – premium holders, combo/sleeve packs and the like – which continue to be in stock."
Hey, we're all having to adapt.