Why Kirk Gibson's 1988 World Series Home Run Still Matters
"The impossible has happened…"
Those were the words of Vin Scully after Kirk Gibson's pinch-hit, game-winning home run in Game 1 of the 1988 World Series sailed into the night and into history.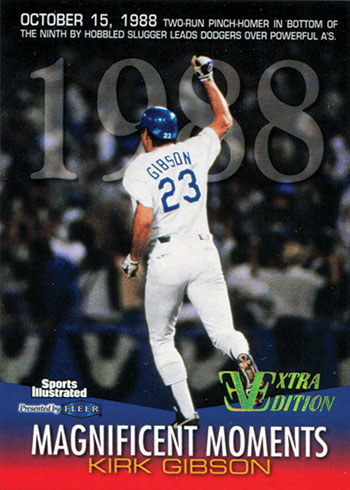 The key to the whole thing was Mike Davis.
If Davis, a pinch-hitter who batted just .196 with 2 home runs and 17 RBI during the regular season, had not drawn a walk off former teammate Dennis Eckersley with two out in the bottom of the ninth in Game 1 of the 1988 World Series, the Los Angeles Dodgers would not have been in position to win the game.
The fact that Eckersley issued a walk at all was, for a moment in time, headline material. Walks just didn't happen with Eckersley on the mound. He hadn't issued a walk in nearly two months. Read that sentence again. Incredible.
But Eck recalled the 22 homers Davis had hit just a year earlier while both were with the A's. And so he pitched him carefully, a .196 average or not. And maybe pitched him too carefully.
"Look Who's Coming Up!"
We've all seen the footage. Some of us saw it unfold on television that October 15 night. Others have watched the clip so many times, have invested so much time into the archival footage that they can reel off the commentary word for word, inflection by inflection.
And then there are a few of the truly special ones who witnessed history live and in person, parked in a Dodger Stadium seat just hoping the club could scratch across a run to maybe send the game into extra innings.
We're not going to comment on those who left early, before the tens of thousands still there, began roaring en masse when a hobbled Kirk Gibson gingerly strolled to the on-deck circle. As Vin Scully told a national television audience, "And look who's coming up!"
In the next 6 minutes and 46 seconds, history unfolded in the electronic era. Gibson went from being down 0-2 and only able to swing with his arms and not push off from a sore left hamstring and injured right knee, to working the count 3-2. You know the rest. Gibson sent a backdoor slider from Eckersley and pulled it into the rightfield stands as Dodger Stadium roared.
You can see the brake lights on the cars suddenly stopping in the Chavez Ravine parking lot as Jack Buck screamed "I can't believe what I just saw!" to a worldwide radio audience.
That night, the clip played against the backdrop music from The Natural on several different outlets. Instead of Roy Hobbs rounding the bases in victory, it was Gibson.
"There's no explanation," Gibson said at a 2016 charity dinner for Joe Torre's Safe at Home Foundation to protect kids from abusive and frightening situations at home or away. "That's an ugly swing against Dennis, who was dominant and a great competitor. In all honesty, Mike Davis stole second base and I was just trying to get a little blooper over the shortstop's head and it went the other way. But it was a good result."
Also on stage joining Gibson and Torre were Eckersley, A's manager Tony La Russa and former Dodgers pitcher Orel Hershiser.
La Russa was asked why the A's, in light of Gibson's power, didn't just walk him. It's a question he's been asked several times over the years.
"So here's what I thought," La Russa says. "I thought, Gibby . . . he's hittin' on one leg. My thought was, look, he's hurting. I wanted to bring the outfield in because I didn't think he could hit the ball out of the infield. So I was just trying to protect against the bloop . . . I was worried he was going to hit a ground ball through a hole or hit a blooper.
"So [pitching coach Dave] Duncan says, 'You know, Steve Sax is on deck and Eck will walk through him like he's water.' I said, 'Hey, who's the manager?' We're gonna pitch to him.'"
In a story detailing the charity dinner by Yahoo Sports, Eckersley spoke of Oakland's feeling toward Gibson even before the Series started. He's damaged goods, they thought. He can't hurt us.
"Let me tell you something," Eckersley told the crowd at the dinner. "Before that game we went over the hitters and we passed by Gibby. First of all, we didn't think he was gonna play and when we did we said, 'Just gas him. He's got no chance. Just throw him fastballs. He's got no chance.'"
Of course, Eckersley did throw him fastballs – "all fastballs" Gibson recalls – and Gibson fouled them off. He sent a little dribbler down the first-base line, which kicked foul with A's first baseman Mark McGwire and Eckersley ready to pounce on it if it suddenly rolled into fair territory. "Oh, if that would've been fair!" Yahoo Sports reported Eckersley saying. "It would have changed my whole life! It was foul!"
The Emergency Stance
When he got back in the batter's box, Gibson went into what he called his "emergency stance," crouched lower than normal and legs spread to where he could get the bat on the ball. His knee, injured badly in Game 7 of the NLCS against the Mets, was aching and the torn hamstring in his left leg was throbbing. But Gibson was locked in, and the tremendous outpouring of fan applause while taking a couple of practice swings in the on-deck circle helped bring him a high that masked part of the pain, however temporary.
Davis' steal of second helped relax Gibson, at least a little. Scully told the world, "Now they don't need the muscle of Gibson."
Having worked the count 3-2 Gibson stepped into the box, then quickly put his hand up and umpire Doug Harvey gave him the timeout he was seeking. And on his mind was a scouting report by scout Mel Didier that – correctly – indicated that if Eckersley went full-count, he was almost certainly going to throw "a backdoor slider."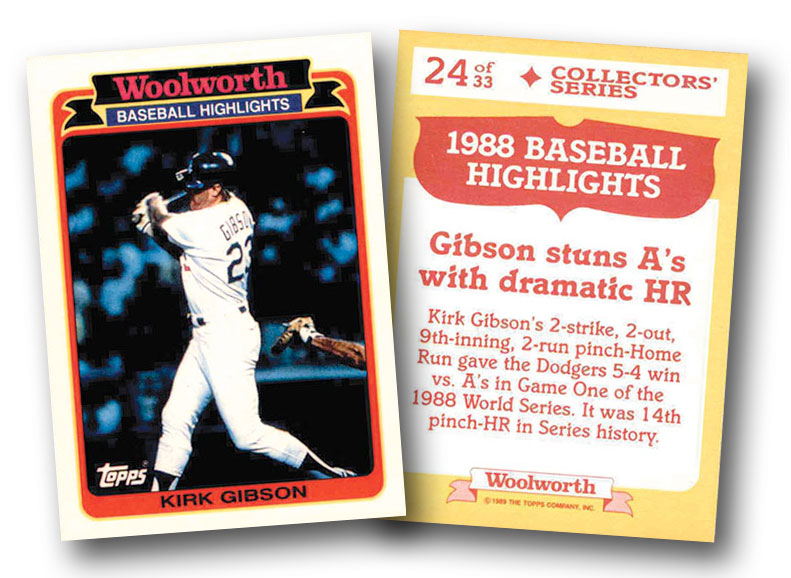 Gibson recalls thinking about the report in the way Didier first talked about it. "And I said it how Mel Didier would say it, with a Southern drawl," Gibson says. "He'd say, 'Pardner, sure as I'm standin' here breathin' Eckersley is going to throw that three-two backdoor slider.' That's why I stepped out. I said it, I stepped in, [he] threw it, I took an ugly swing and it went out. Not trying to figure it out any more than that."
This year, the Dodgers invited Gibson, former Dodgers manager Tommy Lasorda, Hershiser and Vin Scully to Dodger Stadium to recognize the 30th Anniversary of what has been called Los Angeles' greatest sports moment. Gibson and Eckersley – television analysts for the Detroit Tigers and Boston Red Sox, respectively – also met and talked on-camera in Fenway Park.
The respect they have for each other is genuine.
During the Torre charity dinner, Gibson told the audience how uncomfortable he was sitting next to Eckersley while discussing the home run in a public setting. "I don't feel right about it," Gibson said.
Eckersley put him at ease.
"I truly feel honored, and that sounds crazy, to be a part of this [piece of history]," Eckersley said. "I really do. Me and Kirk have gotten to know each other much more over the last few years. I've always had this respect for Kirk, and the kind of player he was. And for something like that to happen to me, and the moment in baseball, it was incredible! What a moment. It really was. And I can step away from that and appreciate it because I love the game. I mean, I hate that moment for me. But I'll tell you what, when that happened, I took it all in. I didn't walk off the mound with my head in my hands. I couldn't believe that moment.
"The expression on people's faces," Eckersley added. "They were absolutely ecstatic."
Although the video of the moment lives on – as do the calls of Scully and Buck – some things have changed in the last 30 years. Eckersley was voted into the Baseball Hall of Fame in 2004.
Gibson is 61, and in 2015 revealed he suffers from Parkinson's disease – or "Parky" as he calls it. He moves slower these days, speaks slower, and works on keeping himself sharp mentally and physically. "I know it's progressed, but it seems fairly slow," Gibson told Newsday in July. "I'm walking, I limp. My left arm is not going to move. I can try to cover it up. But it's too much work to do that all the time. I'm dealing with it the best way I can."
Lasorda turned 91 in September. La Russa went on to capture a World Series title the very next year with the A's, then two more in St. Louis before retiring as an active manager. Buck, who called the game on the radio, passed away in 2002. Scully, 90, retired from the broadcast booth after the 2016 season.
Gibson sold in auction the jersey he wore for that at-bat, the helmet and the bat that whacked one of the most famous home runs in baseball history.
The proceeds from the sale went to the Kirk Gibson Foundation, which benefits Parkinson's research as well as educational initiatives. Both his parents were teachers.
The one thing that has never emerged was the baseball that landed in the rightfield stands. Nobody has ever gotten a good look at who may have grabbed the historic ball. Gibson told Sports Illustrated that he did received a package in 1989 that may have hinted what happened to the ball upon reaching the seats.
"One day I got a big 8-by-10 manila envelope with a picture of a day with a skirt that was pulled half way up her thigh," Gibson told SI. "It was all black and blue. [Her note] said, 'This is where your ball landed.' I have no idea who that woman was. I opened that picture in 1989.
"I think I signed it and sent it back."
History for Sale
In 2010, Kirk Gibson put into auction several items related to his 1988 World Series home run, including the bat he used for the historic blast.
That bat sold for $575,912.
The white home jersey he wore for that at-bat sold for $303,277.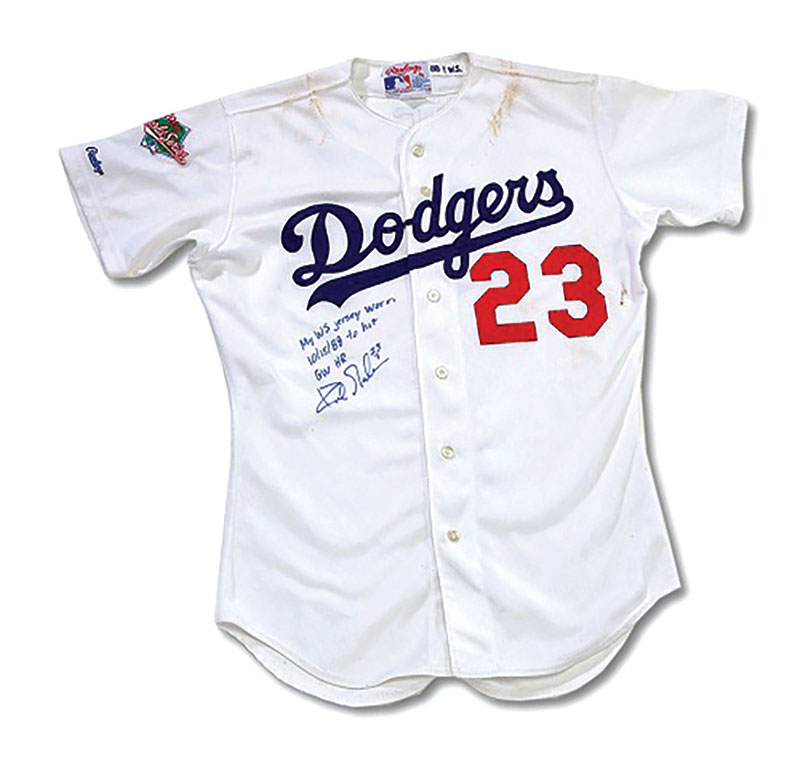 The batting helmet he wore for the at-bat sold for $153,389.
Other Gibson-related items also were part of the auction, including his 1988 NL Most Valuable Player Award (sold for $110,293), his World Series trophy ($45,578) and his '88 World Series road uniform that was never used in a game as he only played in Game 1.
The ball Gibson hit for the home run has never surfaced.
The Gibson items in the SCP 
Auctions sale totaled $1.2 million.