Who would sign for my version of Golden Age? How about these five for starters …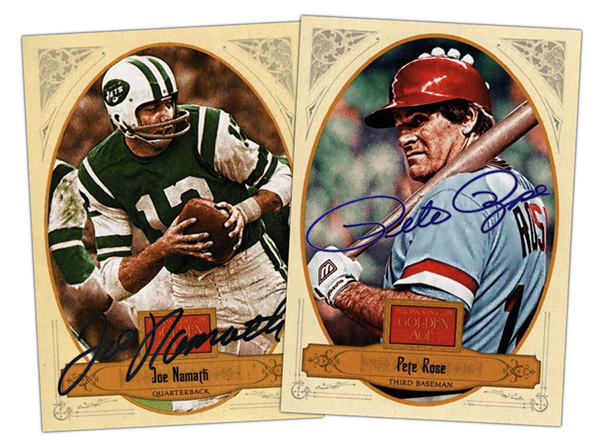 By Chris Olds | Beckett Baseball Editor | Commentary
A new baseball season is officially here, though on cardboard we've been going for a few months now. We've seen the newest from Topps Heritage, Museum Collection and more from the fully licensed Topps offerings, while Panini America has been a tad quieter on the baseball card front with the just popular revival of Donruss active and plenty of teasers for its next set, Prizm, telling us that it's on its way.
That got me thinking, though. We're also likely to soon see teasers for the next chapter of Golden Age, the third installment of cards featuring the "nation's greatest athletes, entertainers and newsmakers from the Golden Age of America." It's that added extra in there — entertainers and newsmakers — along with an autograph (or two) in every single box that's made the brand one of my favorites the last couple of years.
That got me thinking … which five autographs would I want to see in this year's set?
Well, here goes …
Pete Rose — When it comes to quality ballplayers from the past and newsmakers (good or bad), this willing and available signer covers both bases well for the era. On the field, he did plenty. Off the field, well, he did what he knows he never should have done by gambling on his sport, albeit not during the Golden Age years. Since Rose can't appear on MLB-approved cardboard but can appear in other sets, he's a mainstay for those products without a MLB Properties license. I'm surprised he hasn't signed for the first two sets, so here he must-do for me. (An image of his first Golden Age card with some added ink is above … along with my next pick.)
Joe Namath — Golden Age isn't just about iconic baseball players, it's a place for notable athletes from all sports. "Broadway Joe" was just that during his Hall of Fame career with the New York Jets, and few players from the past are as beloved as Namath. He's not a cheap signer, but he's a big one — and there are many ways he'd fit in well here. I guarantee it. Perhaps he could appear on a non-traditional type of signed card for extra kicks — maybe something from a TV show or commercial appearance?
Ted Giannoulas, aka The San Diego Chicken — The Chicken is no stranger to cardboard appearances with a rich history of appearing on Donruss cardboard off and on since 1982. This ballpark mascot is an iconic one who would fit in perfectly in a brand such as Golden Age. Sure, other mascots came first in baseball, but the San Diego Chicken helped change the field for ballpark buddies in sports beginning back in 1977.
John Schnatter, aka Papa John — Sure, we're stretching the Golden Age timeframe here as his pizza chain was founded in 1984 (Golden Age generally stops before 1980), but when it comes to sports food pizza is a fundamental choice. Schnatter is the most-visible founder of a food company on the sports scene these days, too, so it would be a fun card to see while many fast food (Americana) icons are no longer living or not well-known publicly. Other obvious sports food icon options here would have been  Teressa Bellissimo, the inventor of the Buffalo wing, but she died in 1985, and the inventor of the sundae in a miniature baseball helmet. That person's identity remains a culinary mystery, though. (Maybe the ballpark sundae in a helmet should just get a base card … just for fun?)
How about a choice away from sports? After all, Golden Age has plenty of that …
Jann S. Wenner — The editor and publisher of Rolling Stone, an iconic magazine that helped shape its time beginning in 1967. Sure, the musical and publishing landscapes are different now, but he certainly would be an interesting inclusion here. It's a card that would be chased. (And, unlike big names in the musical field such as Bob Dylan he might be affordable enough for a card company to sign.)
Who'll make the cut in this year's set? We'll find out soon.
Who do you think is interesting or important enough to sign for a Golden Age set? Tell us in the comments below …
Chris Olds is the editor of Beckett Baseball and Beckett Sports Card Monthly magazines. Have a comment, question or idea? Send an email to him at colds@beckett.com. Follow him on Twitter by clicking here.